Laptop: If you need to purchase a laptop for your college experience, you must go to www.dell.com or www.apple.com and order your laptop. Please have it mailed to Transylvania University. The address is at the bottom of this page. Both of these websites offer great discounts for students.
Cell phone: If you wish to have a cell phone while in the U.S. please the websites of major U.S. service providers (AT&T, Sprint, T-Mobile, Verizon) to compare plans. Time will be built into your orientation schedule to sign up for service.
Clothing: Kentucky has a great variety of weather conditions. It can be very hot or extremely cold. Make sure that you have appropriate lightweight (summer) clothing and heavyweight (winter) clothing. During the late summer months and early spring months it can be very warm during the day but very cold at night. Good winter clothing (which is a necessity here) can be purchased when you get here. Most students wear casual clothing on campus: jeans, pants, shorts, etc. You may need some dressy clothes for special events such as dances, parties, or interviews.
Linens/bedding/room furniture: Sheets will be provided for your first few nights until you have an opportunity to purchase your own. You will need to purchase sheets, pillow cases, pillows, bedspreads, blankets, and towels. Room furniture such as a bed, dresser, mattress, desk, desk chair, closet, and a mirror will be provided. You will need to purchase any decorative items you would like to have for your room.
Laundry: Washing and drying machines are located in each of the residence halls and are operated with money preloaded on your student ID or with cash.
Electrical appliances: Any hair dryers, straighteners, computers, etc., will mostly likely need an adapter. The U.S. is 110-120 volts, 60 cycles, and outlets require two flat pronged plugs.
Food: Please make sure to review the U.S. Customs website as some foods are restricted from coming in to the U.S. You will eat most of your meals in the campus facilities and you will also have access to kitchen facilities on campus. After reviewing the U.S. Customs website, we encourage you to bring permitted spices and snacks for when you miss the flavors of home.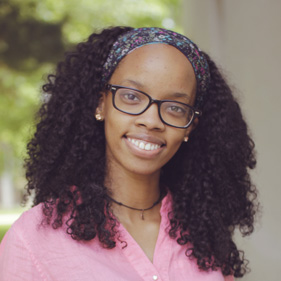 I have learned to value the time spent speaking to professors because they are such amazing people. You just never know how much you can learn or unlearn from them.
Benita Nzamuye '17
Rwanda
MAILING ITEMS
If you cannot fit everything into your allowed suitcase allotment (which we strongly encourage you to try and do), you may ship boxes to yourself prior to your arrival on campus. Packages should be addressed:
Your name
c/o Michael Covert
Transylvania University
300 North Broadway
Lexington, KY 40508
USA