Please note that Transylvania University is undergraduate only. We do not offer Master's or other graduate programs.
Apply today
Application
If you are applying to more than one of the 500+ colleges and universities that use the Common Application, we recommend you complete the Common Application, which opens annually on Aug. 1 for enrollment beginning the following August.
For help with questions regarding the application, contact Julie Sams, Director of Admissions, at jsams@transy.edu .
Admissions essay
With your application, include an original essay — written by you — providing the admissions committee insight into you and what you will bring to the Transylvania community. Please limit the essay to 1-2 typed, double-spaced pages.
If you apply using the Common Application, instructions are provided for uploading the essay file.
Official secondary school transcript
Your secondary school transcript must be translated into English with a grading scale attached.
Official test scores
International students from English-speaking countries and/or students for whom English is their first language and/or students who have studied in English-taught programs should follow guidelines for domestic students regarding test-optional choices. This includes exemption from standardized testing (ACT/SAT) if preferred.
Proof of English Proficiency
Students for whom English is not their first language, or who are not from English-speaking countries, need to submit one of the following as proof of English proficiency:
SAT R (with CR minimum score in the range of 600-700)
ACT (with minimum composite score of 30)
TOEFL minimum score in the range of 80
IELTS minimum score in the range of 6
PTE Academic and PTE Academic Online minimum score in the range of 52
Cambridge/UK O, AS, or A levels (passing)
International Baccalaureate Diploma in English (24 or higher)
Duolingo minimum score in the range of 105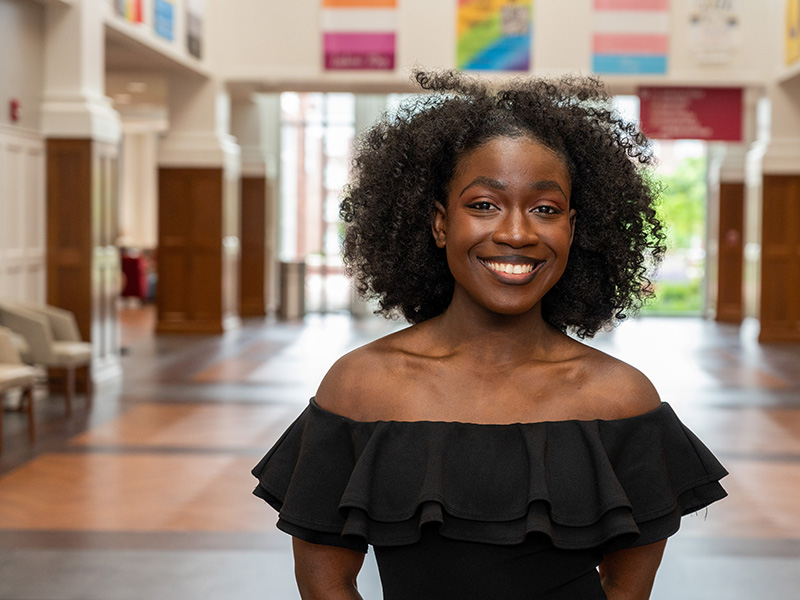 Transy was the first institution I visited, and I immediately fell in love with it. The location was perfect for commuting, adventuring, serving and internships.
Shalomel Jatau
Nigeria
School official or teacher recommendation
Official university transcripts (if applicable)
Preliminary certificate of finance form
This form is used to demonstrate the student's understanding of the estimated expenses needed to attend Transylvania and provide sufficient proof that the student is able to finance their studies in the United States.