You're In!
This is the college experience you've been dreaming about.
#TRANSY2025
Submit Your Deposit Today
Make your acceptance into the Transylvania Pioneer family official. Just submit your non-refundable $350 deposit online here.
Connect with Transy
Show off your Pioneer Pride!
Use #Transy2025 to connect with your classmates and follow us on instagram @beapioneer
Virtual Sessions
Have questions?
Check out several sessions recorded live in summer 2020 for our incoming students.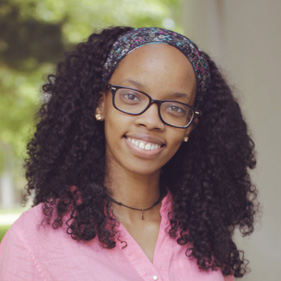 I have learned to value the time spent speaking to professors because they are such amazing people. You just never know how much you can learn or unlearn from them.
Benita Nzamuye '17
Rwanda
Next Steps
Become a Pioneer and submit your enrollment deposit. From this point forward, you will receive all official communication via email from the Office of Admissions and Student Life.
Submit your financial documents. Before you can enroll, you must complete Certification of Finances. Please make sure that you have submitted your bank statements and Certification of Finances to to DSO Denise Hall at dwhall@transy.edu.
International students must provide verification of financial support as part of their application by submitting this form and supporting documentation as described in the directions.
Follow I-20 Instructions Once you receive your I-20 and SEVIS ID, you will need to take the next steps. A Designated School Official (DSO) will email you with full instructions.
The not-so-fun stuff: forms. A series of forms will need to be completed over the course of the summer to complete your full enrollment at Transy. Submission of all forms is required for first-year students unless otherwise indicated. Mark your calendar, set your alarm, tie a string around your finger—just make sure you complete these forms on time (links will be available in the spring).
International Student Orientation is in August prior to New Student Move-in Day. We work hard to make sure that you are fully prepared to be successful on our campus. The two-day orientation is designed to make you feel more comfortable on campus and in the Lexington community. You will have plenty of opportunities to become familiar with the campus and surrounding community, make sure you have all the materials you need and attend academic sessions.
Your Residence Hall
Transy has built all-new residence halls in recent years with community living in mind. You'll find suite-style living with one bathroom for every four students, and there are plenty of spaces to spend time in making lifelong friends.
Dalton Voigt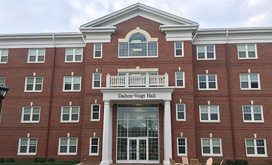 Kincaid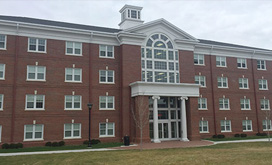 Poole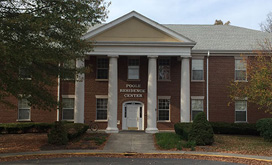 Each of these residence halls features the following amenities: Tempur-Pedic mattresses, private suite bathroom, laundry facilities, cable and wi-fi, computer lab/printers.
Campus Dining
Our food service provider, Bon Appétit, makes fresh, delicious, locally sourced food every day in our campus eateries. We'll even cater to your dietary restrictions, including gluten allergies. Visit transylvania.cafebonappetit.com to learn more.
Meal Plans: 10 meals per week • 14 meals per weeks • 19 meals per week • 160 meals per term

Grab Your Gear!
What to Bring
We've made the ultimate packing list, just for you!
Your room:
Twin extra-long bedding
a regular twin comforter or quilt is long enough, but XL sheets are a must
Pillows and mattress pad
Desk lamp
Hangers
Laundry basket/bag/hamper/supplies
Extension cords and surge protectors
Medium-size garbage bags
Cleaning supplies: towels, cleaning wipes, vacuum/broom, etc.
Storage baskets/boxes, under-bed containers
Area rug (max. 10' x 10')
Decorations
Mini fridge (max. 3.2 cubic ft.)
Microwave (max. 700 watts)
School supplies
Computer or laptop
Class essentials: backpack, notebooks, pens/pencils, folders, highlighters, index cards, etc.
Weekly planner (trust us on this one)
Stapler
Tape
Loose-leaf paper
Calculator
Flash drive
The essentials:
Reusable water bottle and travel mug
Personal hygiene products:
toothbrush, toothpaste, floss, deodorant, etc.
Medications and first aid kit
Sunscreen
Tissues
Shower caddy, shoes, towels and shower/hair supplies
Hand sanitizer
Umbrella, raincoat and rain boots
Random items:
Dishes and utensils
(microwave-safe)
Dish soap and sponge
Coffee maker
Chip clips
Can opener
Chargers
Cable for TV
Headphones
Command strips
Movies and board games
Bicycle and sports equipment
What not to bring
Toaster, convection and toaster ovens, candles, indoor grills, hot plates and space heaters.
A printer. Almost every building has one!
Animals, except fish.
Extra furniture, yet.
Many Transy students bunk their beds to make room for futons or a chair, but we recommend getting settled on move-in day first. Supplied furniture (desks, desk chairs, etc.) cannot be removed from the room.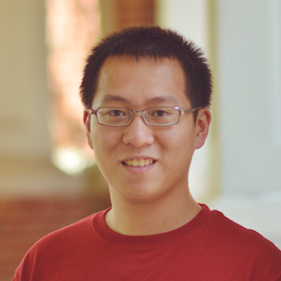 Transylvania is more than a university—it is a tight community where everyone can find their connection and belonging here. It has always been very supportive to me—letting me try all the options and choose the best one.
Nanhao Chen '18
China
I Have Questions About…
We know you probably have a million questions about what to do now that you're admitted to Transy. We've tried to answer many of those here:
When do I need to make my final college decision?
You can make your college decision and ultimately send in your enrollment deposit of $350 anytime, but the earlier the better. Refer back to your admit letter for reasons to commit sooner rather than later!
How do I submit the $350 deposit?
The $350 deposit reserves your space in our incoming class. To submit, you can send a check with the enclosed deposit card and reply envelope, or pay online by electronic check, Master Card, Discover or American Express.
Select ‹Kentucky›, ‹Transylvania University› and ‹Enrollment Deposit.› No login or password is required.
You will need your name, your Account Holder ID# provided in the admissions letter and the last four digits of your SSN.
When will I know my out‑of‑pocket cost to attend Transylvania University?
Typically, it takes about three weeks to process the FAFSA. We'll begin sending out financial offers as early as January.
Are there other forms I need to fill out?
There are a handful of documents you will complete over the summer to help us prepare for your arrival in August, but none of those must be completed before May 1. Once you submit your deposit, we'll direct you to more information on our website.
How/when can I visit the campus?
"We offer a variety of virtual visit options for you and your family to help make your decision! Visit transy.edu/visit to explore our virtual admissions counselor sessions, campus tour video and more.