You're In!
This is the college experience you've been dreaming about.
#TRANSY2025
Submit Your Deposit Today
Make your acceptance into the Transylvania Pioneer family official. Just submit your non-refundable $350 deposit online here.
Connect with Transy
Show off your Pioneer Pride!
Use #Transy2025 to connect with your classmates and follow us on social
Virtual Sessions
Have questions?
Check out several sessions recorded live in summer 2020 for our incoming students.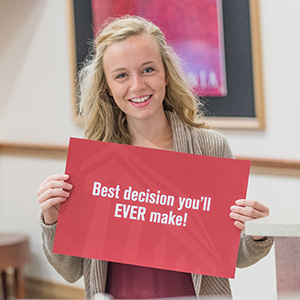 I instantly loved the community at Transy. Everyone meshes together so naturally, while still bringing a variety of ideas and perspectives to the table.
Sadie Middleton '19
Next Steps
Are you an international student? Read our next steps for international students.
Submit your deposit. Submit your $350 deposit online to secure your spot in the Class of 2025. It's official!
Review your financial aid package. Starting in January 2021, you will receive a financial aid package provided we have your FAFSA. Take a good look at the financial aid package you received in the mail, where you'll find all the scholarships, grants and loans you're qualified for. We've created a helpful guide to your financial aid package in case you have any questions.
The not‑so‑fun stuff: forms. Check back soon for important forms to fill out over the summer to complete your full enrollment at Transy. Forms will only become available in Spring 2021 after you have deposited. Submission of all forms is required for first‑year students unless otherwise indicated. Mark your calendar, set your alarm, tie a string around your finger — just make sure you complete these forms on time.
Get your Transy email.
Beginning in June 2021, you'll receive your email address and login information. It will typically consist of the first letter of your first name, first letter of your middle name, full last name and class year.
Here's an example: Denise W. Hall, Class of 2025, would be dwhall25@transy.edu.
Check your email daily! All important reminders, forms and communication will go to your Transy email starting in June.
Your Residence Hall
Transy has built all-new residence halls in recent years with community living in mind. You'll find suite-style living with one bathroom for every four students, and there are plenty of spaces to spend time in making lifelong friends.
Dalton Voigt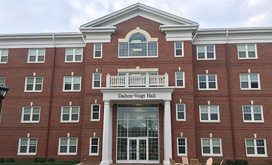 Kincaid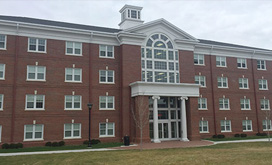 Poole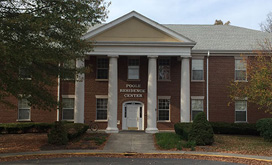 Each of these residence halls features the following amenities: Tempur-Pedic mattresses, private suite bathroom, laundry facilities, cable and wi-fi, computer lab/printers.
Campus Dining
Our food service provider, Bon Appétit, makes fresh, delicious, locally sourced food every day in our campus eateries. We'll even cater to your dietary restrictions, including gluten allergies. Visit transylvania.cafebonappetit.com to learn more.
Meal Plans: 10 meals per week • 14 meals per weeks • 19 meals per week • 160 meals per term

Grab Your Gear!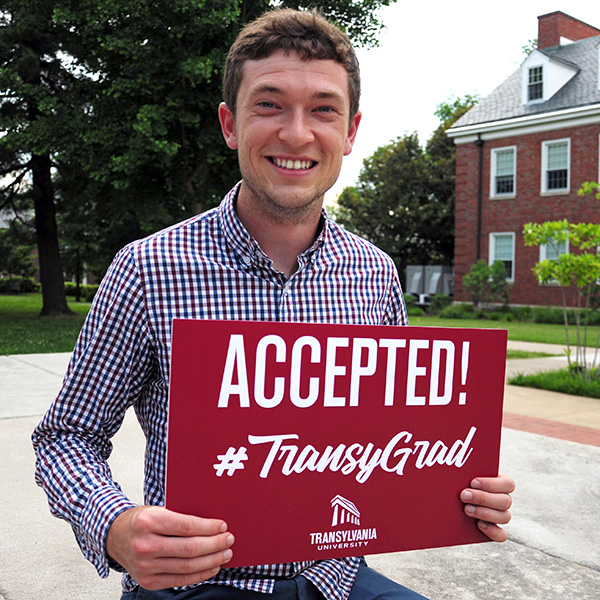 Transylvania is the single best decision I ever made in my life.
Daniel Cooper '19
I Have Questions About…
We know you probably have a million questions about what to do now that you're admitted to Transy. We've tried to answer many of those here:
When do I need to make my final college decision?
You can make your college decision and ultimately send in your enrollment deposit of $350 anytime, but the earlier the better. Refer back to your admit letter for reasons to commit sooner rather than later!
How do I submit the $350 deposit?
The $350 deposit reserves your space in our incoming class. To submit, you can send a check with the enclosed deposit card and reply envelope, or pay online by electronic check, Master Card, Discover or American Express.
Select ‹Kentucky›, ‹Transylvania University› and ‹Enrollment Deposit.› No login or password is required.
You will need your name, your Account Holder ID# provided in the admissions letter and the last four digits of your SSN.
When will I know my out‑of‑pocket cost to attend Transylvania University?
Typically, it takes about three weeks to process the FAFSA. We'll begin sending out financial aid packages as early as January.
Are there other forms I need to fill out?
There are a handful of documents you will complete over the summer to help us prepare for your arrival in August, but none of those must be completed before May 1. Once you submit your deposit, we'll direct you to more information on our website.
How/when can I visit the campus?
We offer a variety of on campus and virtual visit options for you and your family to help make your decision! Also be on the lookout for virtual admitted student days in Spring 2021.
If you haven't filed the FAFSA…
Do I need to file the FAFSA (Free Application for Federal Student Aid)?
You're not required to file the FAFSA, but we highly recommend it! The FAFSA is how you're considered for need‑based financial aid from Transylvania or from any government sources such as federal and state grants, work‑study and/or student loans. Learn more about the FAFSA.
When do you recommend I file the FAFSA?
The FAFSA is open now, so as soon as possible! Some types of aid are limited and are awarded on a first‑come, first‑served basis. Here's what you'll need:
An FSA ID
Identification documents (driver's license, social security card, permanent residence card, etc.) for you and your parents
Financial documents (W‑2s, tax documents)
Transylvania's School ID: 001987