You're In!
This is the college experience you've been dreaming about.
#TRANSY2024
Submit Your Deposit Today
Make your acceptance into the Transylvania Pioneer family official. Just submit your non-refundable $500 deposit online here.

Connect with Classmates
Show off your Pioneer Pride! Connect with other #Transy2024 students on GroupMe & ZeeMe and follow us on instagram @beapioneer

Live Sessions
As we practice social distancing, our on-campus Crimson Compass events have been canceled. The Office of Amissions is providing a series of virtual meetings for incoming students.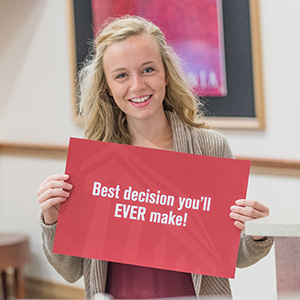 I instantly loved the community at Transy. Everyone meshes together so naturally, while still bringing a variety of ideas and perspectives to the table.
Sadie Middleton '19
Next Steps
Are you an international student? Click here for your checklist.
Submit your deposit. Submit your $500 deposit online to secure your spot in the Class of 2024. It's official!
Review your award letter. Starting in January 2020, you will receive a financial aid award letter, provided we have your FAFSA. Take a good look at the financial aid award letter you received in the mail, where you'll find all the scholarships, grants and loans you're qualified for. We've created a helpful guide to the award letter in case you have any questions.
Accept your award. Log in to TNet to review your awards and accept or decline any or all of them. TNet is your portal for personal information about paying your bill, course registrations, transcripts, grades, etc. It can be accessed from any Internet connection, including off campus. It'll be your lifeline for the next four years. Your TNet login information comes with your financial award letter. If you have questions or special circumstances, contact your admissions counselor.
The not‑so‑fun stuff: forms. Check back soon for important forms to fill out over the summer to complete your full enrollment at Transy. Forms will only become available after you have deposited. Submission of all forms is required for first‑year students unless otherwise indicated. Mark your calendar, set your alarm, tie a string around your finger—just make sure you complete these forms on time.
Get your Transy email.
Beginning in June, you'll receive your email address and login information. It will typically consist of the first letter of your first name, first letter of your middle name, full last name and class year.
Here's an example: Denise W. Hall, Class of 2024, would be dwhall24@transy.edu.
Check your email daily! All important reminders, forms and communication will go to your Transy email starting in June.
If you need more time to make a decision, you can make your non-refundable $500 enrollment deposit by June 1, 2020 and receive the following:
A guaranteed mentor as a part of the 100 Door to Success mentorship program
Your choice of two Transylvania gifts: T-shirt, license plate frame, coffee mug, water bottle or a key chain. We will follow-up with you via email after we have received your deposit.
More Information for Admitted Students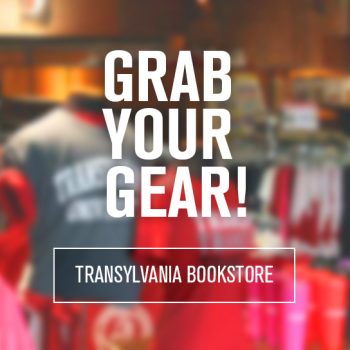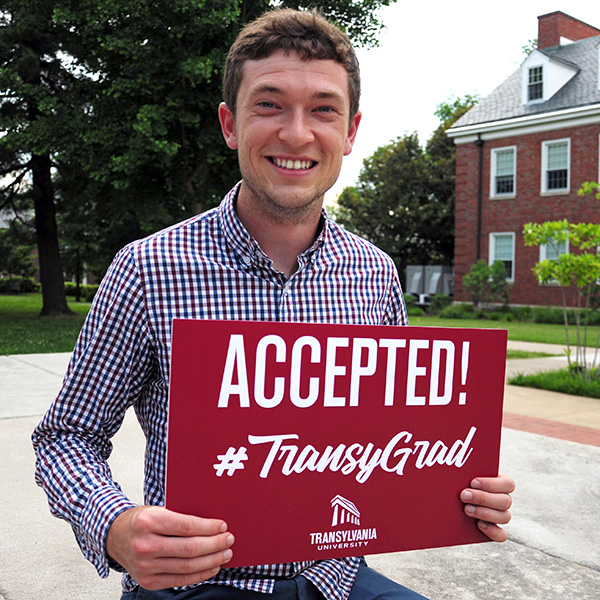 Transylvania is the single best decision I ever made in my life.
Daniel Cooper '19
I Have Questions About…
We know you probably have a million questions about what to do now that you're admitted to Transy. We've tried to answer many of those here:
When do I need to make my final college decision?
You can make your college decision and ultimately send in your enrollment deposit of $500 anytime, but the earlier the better. Refer back to your admit letter for reasons to commit sooner rather than later!
How do I submit the $500 deposit?
The $500 deposit reserves your space in our incoming class. To submit, you can send a check with the enclosed deposit card and reply envelope, or pay online by electronic check, Master Card, Discover or American Express.
Select ‹Kentucky›, ‹Transylvania University› and ‹Enrollment Deposit.› No login or password is required.
You will need your name, your Account Holder ID# provided in the admissions letter and the last four digits of your SSN.
When will I know my out‑of‑pocket cost to attend Transylvania University?
Typically, it takes about three weeks to process the FAFSA. We'll begin sending out financial aid award letters as early as January.
Are there other forms I need to fill out?
There are a handful of documents you will complete over the summer to help us prepare for your arrival in August, but none of those must be completed before May 1. Once you submit your deposit, we'll direct you to more information on our website.
How/when can I visit the campus?
You're invited to Crimson Compass, an overnight event for admitted students, where you'll have an opportunity to spend the night in our residence halls and engage with faculty, staff and students. If you can't make it to one of those, schedule a separate overnight visit.
If you haven't filed the FAFSA…
Do I need to file the FAFSA (Free Application for Federal Student Aid)?
You're not required to file the FAFSA, but we highly recommend it! The FAFSA is how you're considered for need‑based financial aid from Transylvania or from any government sources such as federal and state grants, work‑study and/or student loans. Learn more about the FAFSA.
When do you recommend I file the FAFSA?
The FAFSA is open now, so as soon as possible! Some types of aid are limited and are awarded on a first‑come, first‑served basis. Here's what you'll need:
An FSA ID
Identification documents (driver's license, social security card, permanent residence card, etc.) for you and your parents
Financial documents (W‑2s, tax documents)
Transylvania's School ID: 001987
Topics to Explore
Housing Student Accounts Academics Student Life Health & Safety Orientation
What to Bring
We've made the ultimate packing list, just for you!
Your room:
Twin extra-long bedding
a regular twin comforter or quilt is long enough, but XL sheets are a must
Pillows and mattress pad
Desk lamp
Hangers
Laundry basket/bag/hamper/supplies
Extension cords and surge protectors
Medium-size garbage bags
Cleaning supplies: towels, cleaning wipes, vacuum/broom, etc.
Storage baskets/boxes, under-bed containers
Area rug (max. 10' x 10')
Decorations
Mini fridge (max. 3.2 cubic ft.)
Microwave (max. 700 watts)
School supplies
Computer or laptop
Class essentials: backpack, notebooks, pens/pencils, folders, highlighters, index cards, etc.
Weekly planner (trust us on this one)
Stapler
Tape
Loose-leaf paper
Calculator
Flash drive
The essentials:
Reusable water bottle and travel mug
Personal hygiene products:
toothbrush, toothpaste, floss, deodorant, etc.
Medications and first aid kit
Sunscreen
Tissues
Shower caddy, shoes, towels and shower/hair supplies
Hand sanitizer
Umbrella, raincoat and rain boots
Random items:
Dishes and utensils
(microwave-safe)
Dish soap and sponge
Coffee maker
Chip clips
Can opener
Chargers
Cable for TV
Headphones
Command strips
Movies and board games
Bicycle and sports equipment
What not to bring
Toaster, convection and toaster ovens, candles, indoor grills, hot plates and space heaters.
A printer. Almost every building has one!
Animals, except fish.
Extra furniture, yet.
Many Transy students bunk their beds to make room for futons or a chair, but we recommend getting settled on move-in day first. Supplied furniture (desks, desk chairs, etc.) cannot be removed from the room.
Why Transy?