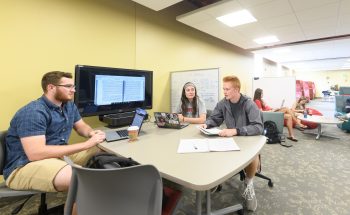 Check out all the ACE has to offer by visiting the Library and asking about the many resources housed here. 
To succeed in academia and the world, students must graduate from Transylvania being able to research and evaluate information, speak coherently, present their ideas to groups, lead discussions, listen actively, write persuasively, and reason quantitatively. By supporting the acquisition of these academic skills, we both help our students succeed at TU and complete their degree here within four years.
To accomplish this, we have created a space in which students may seek the support they need for their academic coursework. Having different sources for academic support in one space allows students to easily know where to go. It also allows the experts providing the disparate support services to work together. This strengthens the help that the students receive.
The space is a home for the TU Learning Skills Services, centralized tutoring services and the Writing Center. It provides space for students to engage in intellectual discussions with each other, with their peer mentors, and with experts in research, writing, and other academic skills. To further support their academic work, students can also get research help from library experts. It provides two small conference rooms that each seat 12 in which workshops and seminars can be held. These rooms have video conferencing capabilities so that students, faculty or staff can do group video conference calls with people from anywhere in the world. Another room provides space and equipment for students to video themselves as they practice their presentations, allowing them to observe and critique themselves and obtain critiques from others.
To facilitate collaborative learning and creative group work, and to support tutors working with students, the ACE space has furniture that is easily moved based on their needs. There are plenty of white boards on walls and on wheels. There are booths and tables with monitors so that students can work together, plugging a laptop or other device into the monitor to easily share their work and ideas. There are six smaller collaboration/study rooms that can be used in a multitude of ways.
How did it start?
ACE began as idea in the Fall of 2011. Members of the Library, the Academic Dean's office, Learning Skills Program, IT, Writing Center, and others came together to talk about how we could better help our students succeed by strengthening our understanding of what we each do to support them. In addition to other ideas we liked the idea of all of us being in the same area so that our students could go to one place to get help. Because of budget limitations, we didn't have enough space to put all of us in one area but we were able to focus on a few key academic support areas such as library, writing, and tutoring.
We worked to renovate the space in the lower level of the library which had been stacks of back periodicals. Plans were discussed and building began in the Spring of 2013 and was finished in August of 2013.
Tutoring at TU prior to October 2013 had been offered by the Math & Science program, by the Writing Center and in some years by the Economics and Accounting programs. In October 2013 we broadened what was offered to include drop-in sessions for a number of high need, high enrollment courses. We were also able to offer one location to find all the different tutoring options offered by different areas on campus.
Give to ACE!
The services of ACE are started but we still have a way to go to support our students. To accomplish all our goals we need financial support. If you are interested in giving to support ACE, please contact Susan Brown, Library and ACE Director or the Transylvania Development Office.