Try something new
During the four-week May term, students concentrate on one class and often get their first taste of international study. Many May term courses are team-taught and are highly interdisciplinary.
Studying in the classroom about the enormous power of volcanic activity to alter the environment is one thing, but standing next to a 2,100-degree lava flow is another matter altogether. That's just one experience on a recent May term course to Hawaii, where students learned about the geological and biological evolution of the islands.
Another group studied Filipino history, culture, and current events before traveling to Mactan Island in the Philippines to complete service projects directed toward public health and economic concerns.
Yet another class surveyed Chinese art and culture from the pre-historic to the Tang Dynasty period and then toured museums and archaeological sites in Beijing, Xi'an, Shanghai, Suzhou, and Yixing.
We encourage all students to plan to travel during May term at least once during their Transylvania career. Don't miss out on this convenient opportunity to experience the world beyond our campus!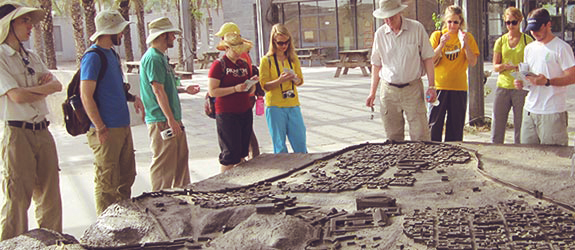 HOW DO I PARTICIPATE?
Each October, faculty members planning May term travel courses host informational meetings to determine student interest. The faculty member will then submit the names of students approved for the course to the registrar's office. A deposit may be required of those students planning to participate. If the course has sufficient enrollment and is approved by the dean, students on the list are automatically registered for the course.
We hope you'll decide to join us!