Contacts
Qian Gao, Associate Professor of Chinese Language and Culture
Address:
Transylvania University
Carpenter Academic Center 302A
300 North Broadway Lexington, KY 40508-1797
Phone: (859) 233-8283
The Chinese program at Transylvania University helps students to learn not only the language, but also Chinese culture, literature and films. Sitting at the heart of urban Lexington, Kentucky, Transy is the perfect place to start learning Chinese and apply that knowledge and skill in local and global internships and job opportunities. Students with background in Chinese language and China studies are in great demand now.
Lexington companies such as Lexmark and Alltech are either Chinese-owned, or have strong ties and partnerships with China. A number of large hospitals and businesses in Lexington are also in great need of Chinese interpreters and translators. Students with backgrounds in Chinese language and China studies are in great demand. Our graduates work in government, financial firms, as certified translators and Asian art teachers. Many have continued graduate studies in a variety of disciplines, including translation studies, Asian films and TV drama, international relations and traditional Chinese medicine.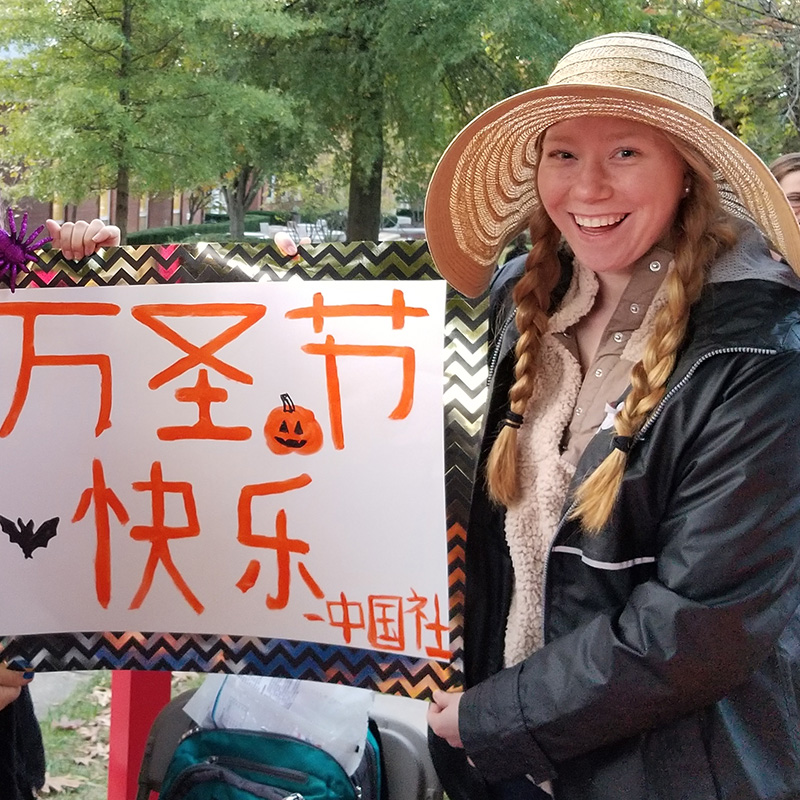 Transy has offered me the opportunity to expand my cultural awareness and experience tenfold. I was chosen to participate in the Shanghai Academy Program, with Transy's Confucius Classroom Scholarship. I never imagined that I would be able to study abroad, let alone be able to speak with locals in Chinese. Transylvania gave me this amazing opportunity that I hope more students will take advantage of.
Gabby Oldendick '20
Where Our Graduates Have Studied
New York University
University of Texas
Johns Hopkins University
Middlebury College
Semester Study Abroad Opportunities
China
Possible Career Options
Interpreter and translator
International business
Teacher
Medicine