Rooted in a strong liberal arts curriculum, Transylvania's art program encourages the interplay of ideas from a variety of disciplines. Students explore personal and global issues in their studio work and analyze these ideas in art history and seminar classes. The program's philosophy rests on the firm belief that the best art draws from both broad social issues and aesthetic concerns.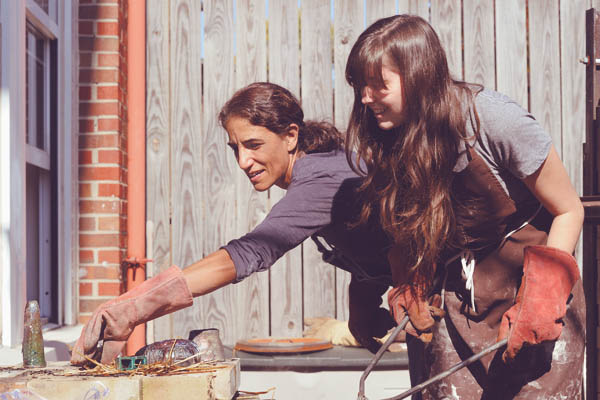 One of our goals is to engage students directly in the work of professional artists, whether as studio assistants, researchers or design team members. Process matters. Technique matters. That's what we're constantly teaching in the classroom.

Zoé Strecker, associate professor of art
Internships our Students Have Completed
Graphic design at Bullhorn Design
Glassblowing at Weston Glass Studio in Berea, Ky.
Guest services at the Lexington Art League
Product photography at Kentucky for Kentucky
Ceramic studio and supply shop at Kentucky Mudworks
Mural painting at ArtWorks Cincinnati
Artistic coordinator at PRHBTN Street Art Festival
Where Our Graduates Have Studied
American University
Cambridge
Case Western
East Carolina University
Polimoda Istituto Internazionale Fashion Design
Rochester Institute of Technology
San Francisco Art Institute
Savannah College of Art and Design
School of the Art Institute of Chicago
Stony Brook University
University of Chicago
University of Cincinnati
University of Delaware
University of Michigan
Washington University
Xavier University
Courses of Special Interest
Community Engagement Through the Arts
Collage/Mixed Media Drawing
American Raku
Art and Ecology
Drawing on Ireland
Semester Study Abroad Opportunities
Australia
England
Italy
New Zealand
These GlobalTransy programs have at least two courses related to the major.
Interested in studying abroad for a summer? Take a look at our summer study abroad opportunities.
Contacts
Zoé Strecker Associate Professor of Art;
Program Director
(859) 233-8115
Transylvania University
300 North Broadway
Lexington, KY 40508-1797
More Information