Class of 2020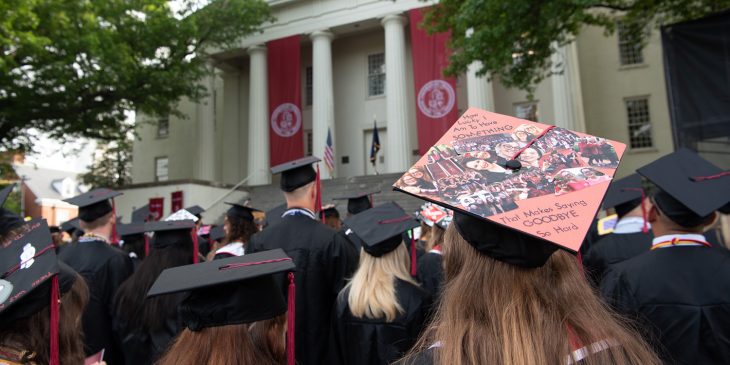 Transylvania University looks forward to welcoming our Class of 2020 back to campus with an in-person ceremony that meets state public health guidelines and provides a safe environment for our graduates and guests. Participants must RSVP in order to join the celebration. The RSVP form will be emailed to members of the Class of 2020 in April.
For planning purposes only and to ensure appropriate physical distancing at each ceremony, graduates will each receive four (4) general admission guest tickets for the outdoor ceremony. Should the ceremony be moved inside due to rain, each graduate will have two (2) general admission rain tickets to distribute to guests. Moving the ceremony inside will be necessary only if there is inclement weather on the ceremony day; that decision will be made on the morning of the ceremony. Graduates may pick up both sets of guest tickets on campus or we can mail your tickets to you (the option will be available on the RSVP form).
The Commencement ceremony will be streamed live for family and friends to watch from home. In addition, a recording of the ceremony will be posted for people to watch at their leisure.
In order to comply with public health guidance and to protect the health and safety of all in attendance, we ask that all Commencement ceremony attendees follow these Healthy at Transy protocols:
All attendees must be masked when on campus. This includes graduates and all guests. Graduates will be able to remove their mask when their name is read and they cross the stage. Those not comfortable wearing a mask should enjoy the live-stream or recorded versions of the ceremony from the comfort of their home.
All attendees must follow physical distancing guidelines on campus. This includes not moving ceremony chairs and keeping 6 feet of distance between themselves and others not in their household.
SATURDAY, MAY 22, 2021
Commencement Celebration
Old Morrison Lawn
9:00 am
Smart casual attire (academic regalia optional)
Rain location: Haggin Auditorium
Guest tickets required (all tickets are general admission)
These plans are subject to change
Accessible Services Request
Please direct questions to the Office of the Academic Dean: academicdean@transy.edu.
Transylvania University held a public virtual commencement celebration for the Class of 2020 on May 23, 2020. More information on how to view the celebration is below.
Alma Mater
"Hail, Transylvania!"
Hail, Transylvania, thine own are we,
Our hearts in loyal love we pledge to thee;
True to thy crimson flag thro' all our days,
Hail, Transylvania! we sing thy praise.
First in the West to rise, seeker of truth,
May He who guides above renew thy youth;
Far thro' the coming years, firm in the right,
Hail, Transylvania! pass on thy light.