Speak up and be heard
Small classes give you the chance to work one-on-one with your professors, ask in-depth questions, and receive personal, detailed explanations. With an average class size of 14 students, you are an individual in the classroom, not just a number.
The small-class experience can be found all over Transylvania's campus. Most classrooms are arranged roundtable-style to promote discussion and collaboration. Our unique downtown location also allows classes to venture beyond classroom walls. Your botany class might inspect native plants around campus, and your history class might tour one of Lexington's historic neighborhoods.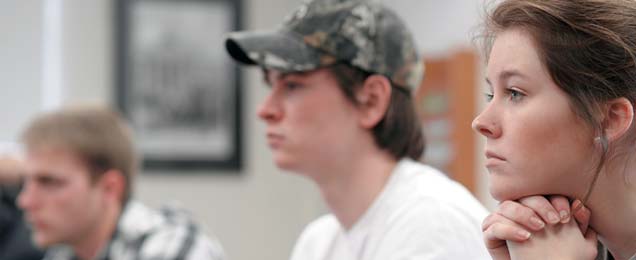 Professors With Personality
You won't find any teaching assistants at Transylvania—your classes and labs are taught exclusively by professors. Of our tenured and tenure-track faculty, 98 percent hold a Ph.D. or the highest degree in their field.
Our highly qualified professors have chosen to teach at Transylvania because of its collaborative, cross-disciplinary atmosphere. They will encourage you to ask questions and express your viewpoints. They will take a personal interest in your individual success. And, thanks to our size, your professors are easily accessible outside of the classroom.

The Liberal Arts: Defined
A liberal arts education helps students make connections between ideas that are seemingly dissimilar. The ability to make these connections, what some may call critical thinking, is essential in today's rapidly changing world. That's why so many Transylvania graduates are leaders in their work and their communities.
Are you unsure of your major or minor? There's no rush to make a decision at Transylvania. With 46 majors and additional minors and pre-professional preparation, including law and medicine, you'll have the chance to find a major that fits you. And, if you can't find a major that best suits your interests, you can design your own.

Unique Calendar
Transylvania has a distinctive academic calendar.
You'll take four courses during each of the regular 14-week terms (fall and winter), followed by a four-week May term that lets you concentrate on one class.
The World is Your Classroom
There are no walls to your classrooms at Transylvania. Many of our students study abroad for a summer, a term, an academic year, or during our unique four-week May term. At Transylvania, you can study abroad and stay on track for graduation.
By studying abroad, you get first-hand knowledge of world cultures and an opportunity to experience life from a unique international perspective.
May term offers an intensive four-week academic experience that lets students focus on a particular subject of study. May term courses often feature travel, which in recent years has allowed students to practice French while cycling in France, learn about tropical ecology in Belize, examine ancient art and culture in China, and dig for archaeological treasures at Machu Picchu.
Can't find the right program? Work with our study abroad office to create your own experience. Last year, our students studied across the globe, including Norway, Ecuador, China, Israel, Chile, and Japan.