Writing Center
Develop your skills
Transylvania's Writing Center is a comfortable and inviting workspace where students, faculty and staff come together to talk about writing.
Our tutors are trained to help writers identify and tackle their own writing challenges. They provide suggestions, offer pertinent examples and put together supplemental exercises suited to each writer's individual needs. They work hard to be respectful readers and listeners who help students direct and motivate themselves, set product goals and develop good writing habits.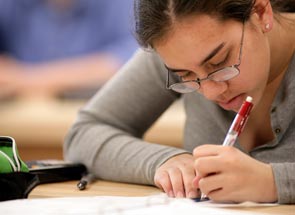 The Center is staffed by writers who are willing to give time and attention to other writers—whether it be to ease fears in the planning phase of the writing, to locate information to support a thesis or to work through the nuts and bolts of citing secondary sources in a term paper.
Location
ACE (Library/Basement)
300 North Broadway
Lexington, Ky.
40508-1797
Phone: 859-281-3594
Hours:
Monday thru Friday: 9:30 a.m.-5 p.m.
Sunday, Tuesday, and Thursday: 8-10 p.m.
---
Learning Skills Program 
Purpose & Goals
The Transylvania Learning Skills Program is available to all students to help them achieve academic success. Group and individual services will:
Increase learning efficiency and effectiveness
Adapt and apply learning strategies to current classes
Become more active and "response-able" learners
Improve problem-solving abilities and critical thinking skills
Academic Success Topics
Assessing academic strengths and weaknesses
Self-management skills (motivation, stress, concentration, attitude)
Task management, organizational skills and procrastination
Reading speed and comprehension
Decoding the lecture and note-taking
Test preparation and memory skills
Test-taking skills and test anxiety
Using academic resources
Learning Skills Services
Individual academic coaching
Master student class
Memory strategies and mnemonic systems class
Critical reading class
Academic power presentation (A.P.P. Seminar Series)
Outreach programs