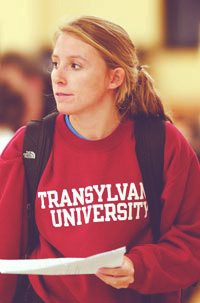 More than 90 percent of students recommended for medical school and 100 percent of students recommended for law school are accepted.
Institution type: Private liberal arts college
Location: Downtown Lexington, Ky., a thriving city of 300,000 people.
Enrollment: 1,050
Founded: 1780 as the 16th college in the United States
President: Seamus Carey became Transylvania's 26th president on July 1, 2014.
Tuition and Fees: $37,290
Room and Board: $10,160
Student/Faculty Ratio: 11:1
Average Class Size: 15
Receiving Financial Aid: 98%
Endowment: $162 million as of June 30, 2015
Students
Female: 58%
Male: 42%
Students of color: 18.6%
Out-of-state: 22%
International: 3.6%
Academics
40 majors, with the opportunity to design your own.
Pre-professional preparation for law, medicine and engineering
Total full-time faculty: 95
Faculty with a terminal degree: 98%
Percentage of classes with 10 or fewer students: 25%
Academic Calendar: Two 14-week terms, May term, optional summer session
Student Outcomes
First-year retention rate: 86%
Average time to graduation: 4.11 years
More than 90% of students recommended for medical school are accepted.
100% of students recommended for law school are accepted.
95% of students are in graduate school or employed within 6 months of graduation.
Campus Life
92% of first-year students live on campus; 76% of all students live on campus.
90% of students participate in community engagement opportunities.
More than 50 student organizations
26 intercollegiate athletic teams
Affiliation: Christian Church (Disciples of Christ), although the campus community embraces individuals of all faiths and spiritual practices.
Accreditation: Transylvania University is accredited by the Southern Association of Colleges and Schools Commission on Colleges to award the Bachelor of Arts degree. Contact the Commission on Colleges at 1866 Southern Lane, Decatur, Georgia 30033-4097 or call 404-679-4500 for questions about the accreditation of Transylvania University.