Opened in 1966, Mitchell Fine Arts Center hosts a wide array of both amateur and professional performance companies, along with school, community and academic events.
The building centers around its unique double-sided stage. The 3,400 square foot stage features the intimate half-round Carrick Theater on one side and the impressive Haggin Auditorium on the other side. This highly versatile and rare design offers users the unique ability to customize the stage layout.
Haggin Auditorium and Carrick Theater are surrounded by a wide array of other assets and venues, including Coleman Recital Hall and the Morlan Gallery. Connected by a breezeway is the Lucille Little Theater, a stand-alone facility featuring a 40 by 60 foot black box theater that is home to Transylvania's Theater Program. The Little Theater was designed in collaboration with the world-famous Fisher Dachs Associates.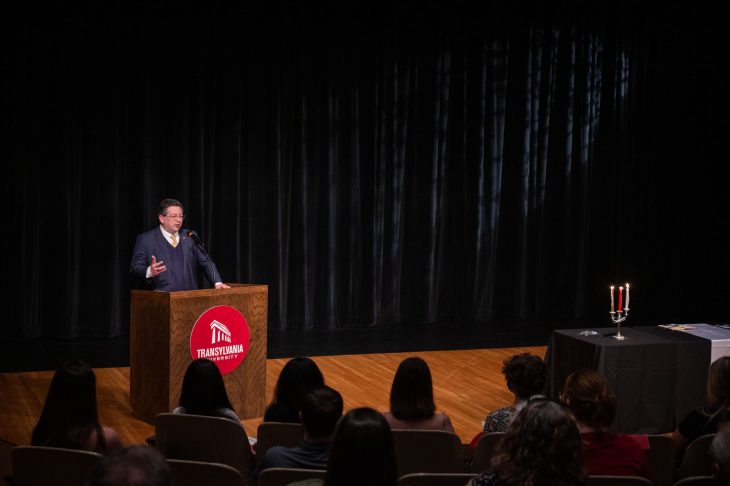 Haggin Auditorium and Carrick Theater, along with their supporting rooms, are available to rent. Key features include:
Haggin Auditorium: 1,028 seat capacity with a 50 foot wide proscenium and black oak stage floor
Carrick Theater: 280 seat capacity with a 39 foot wide proscenium and polished oak trust stage floor
32 Linesets of over‑stage rigging with four borders & legs, three full stage blackout curtains, three cyc options, two grand drapes and valances, five permanent electrics
Lighting: 240 strand dimmers with ETC EOS controls, source four incandescent and LED fixtures, and 12 Vari*Lite moving lights
Audio: Independent EAW center array speakers, with Heath and Allen analog mixing, permanent lines to the stage, monitors, digital room recording, wireless microphones and two‑channel clear‑com intercom system throughout
Dressing Rooms: Two chorus rooms below stage with a total capacity of 65 persons, four showers, four toilets, eight sinks, 22 vanity stations and audio feed from stage. A flexible use room adjacent to the stage accommodates up to 80 additional performers. Other rooms may also be available for use as dressing rooms.
Green Room: Located on stage level with a private restroom, conference table, independent heating and air conditioning, coffee station and audio/video feed from stage
Additional Resources: Professional grade marley dance flooring, Falcone 9 foot grand piano, Steinway 7 foot grand piano, acoustic shell, projector and 9‑by‑12 RP screen, 65" UHD TVs, wireless clear‑coms, music stands, music chairs, lecterns, tables, risers and more
Review and download detailed technical information about Mitchell Fine Arts Center.