The Office of Marketing and Communications shares Transylvania's story with a number of audiences through print and digital media. It serves the communication needs for all offices on campuses, as well as manages the university's branding, website, magazine, media relations and advertising, among other areas.

Megan Moloney
Vice President for Marketing and Communications
Megan joined Transylvania in July 2018 after 22 years of overseeing a range of media and public relations activities at several federal agencies. Among those assignments, she served as the director of digital media engagement for the U.S. Department of Veterans Affairs, press secretary on the Deepwater Horizon response, a public affairs specialist at the U.S. Secret Service and director of radio and television production at the White House. Megan has also worked as a radio and television reporter, producer and director, receiving a regional Emmy Award and multiple nominations, as well as several Ohio Associated Press awards. She holds degrees from Miami University (B.S., mass communications) and Johns Hopkins University (M.A., management). A native of Lexington, Megan is also a certified Irish dance instructor and director of the Bluegrass Ceili Academy. She serves as a volunteer on multiple boards, including the Bluegrass Irish Society, and is a local advisory board member for Phi Mu Fraternity.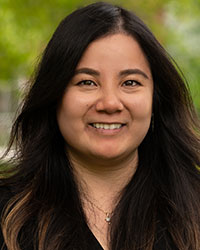 Monica Allen
Graphic Designer
Monica joined Transylvania in 2021 as one of the graphic designers. Prior to moving to Kentucky in 2018, she worked as a graphic designer and event manager in New York City. She earned a B.A. from Seton Hall University in New Jersey where she grew up. When not at Transylvania, Monica can often be found traveling around the world with her husband, trying new restaurants in Lexington and visiting her family.

Lee Boone
Web Developer/Designer
Lee came to Transylvania after seven years as a freelance web developer. He was born and raised in nearby Winchester, Kentucky, but his family has been here for much longer—his great great great great great great uncle is Pioneer Daniel Boone (unfortunately, Lee never got to meet him). He has a B.F.A. in graphic design from Western Kentucky University and an M.F.A. in sequential art from Savannah College of Art and Design. In his spare time, he plays games, collects comic books and tries all kinds of recipes with his wife and children.

John Friedlein
Communications-Marketing Specialist (Social Media Manager)
John is a social media manager and writer for Transylvania. He joined the communications staff after working as a newspaper reporter for 13 years. While at the Elizabethtown News‑Enterprise, he wrote a front-page feature column with an eye for the unusual. John earned a B.A. from the University of Louisville.

Julie Martinez
Director of Marketing and Communications
Julie joined the communications staff in 2014. She oversees all projects and is the person to contact if you need communications services. She previously worked at the University of Kentucky producing documentaries and other multimedia projects for the College of Engineering. Prior to her time at UK she worked for a marketing firm and owned a small media production company focused on non-profit communication. She is originally from Kentucky, but spent nearly a decade in Los Angeles before returning to Lexington. Outside of work she enjoys traveling with her family, hosting international students, documentary filmmaking and home winemaking.

Stephen Russell
Lead Graphic Designer
Stephen joined Transylvania in February 2019. Most recently he worked at East Tennessee State University designing, providing creative direction and overseeing the university's visual brand. Prior to working at ETSU, he spent nine years as the visual and motion designer for Carnegie Library of Pittsburgh. While living in Pittsburgh, he and his wife served as foster parents. He was born in Ontario, Canada, but grew up in Nashville, Tennessee. He attended the University of Tennessee in Knoxville, where he received a B.A. in studio art and met his amazing wife. When not at Transylvania, he can often be found taking his wife and four kids on adventures to find waterfalls, playing the bass or harmonica at church or designing and implementing home improvement projects.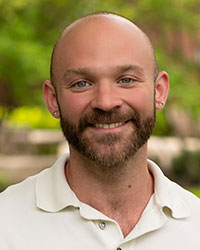 Heath Stiltner
Digital Content Specialist
Heath joined the Transylvania family after traveling seven years as a freelance photographer and social media content creator. A Transylvania alumnus, he took a non-traditional route and returned to graduate in 2019, earning his B.A. in Art History. During his seven year sabbatical from school, Heath traveled to Iceland, New Zealand, Alberta, and saw many mountains. Born in Dorton, Kentucky, Heath grew up in the Appalachia Mountains where he learned to appreciate the outdoors, storytelling and craftspeople.

Tyler Young
Communications Specialist: Marketing and Writing
Tyler has played a couple different roles at Transylvania since 2010, when he came to the communications office after two years as a newspaper reporter. He currently serves as communications specialist in the marketing and communications office. When he's not at Transylvania, you can most likely find Tyler watching Reds baseball, visiting local craft breweries or being a struggling musician as a bass player for bands around Lexington. And if you're awake early enough, you just might see him making donuts and espresso drinks at North Lime Coffee and Donuts on Sixth Street. He graduated from Asbury University with a double major in journalism and Spanish.