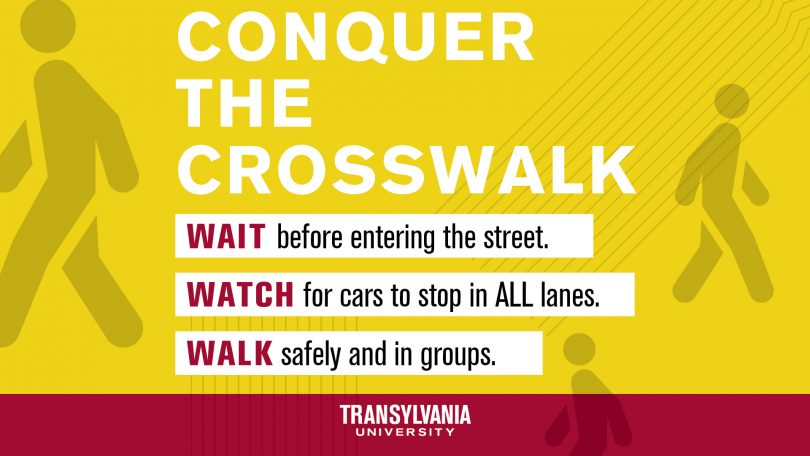 North Broadway is a busy thoroughfare, and each day hundreds of members of the Transylvania community use the crosswalk to get from one side of campus to the other.
Out of concern for your safety and for the consideration of drivers traveling on Broadway, during the first days of the new semester, public safety officers will direct traffic and pedestrians during the busiest times of the day. Their main focus is to help students cross in groups and ensure traffic is stopped in all four lanes. By following these guidelines all year long, pedestrians can cross the street safely and not impede traffic.
Be Aware
The pedestrian is responsible for being cautious and alert while crossing the street.
Look across all lanes before crossing. Even though one vehicle has stopped, never assume the next lane will stop or that a driver sees you just because the lane you are crossing has stopped. Often, when one vehicle stops, it blocks the view of the pedestrian for drivers in other lanes.
Establish eye contact with the drivers before crossing.
The law does not require motorists to stop for a pedestrian approaching or waiting to enter a crosswalk.
Be Safe
Don't assume vehicles can or will stop. Gauge the flow of traffic before stepping onto the road, and wait if necessary.
Never cross the street while texting or talking on your mobile phone. Direct your full attention to oncoming traffic.
Always be prepared for a motorist who fails to yield the right-of-way. When a motorist does stop, proceed cautiously to determine if other approaching vehicles are following suit.
Be Considerate
Do not cross in a long, staggered line. If traffic is moving, wait and cross with a group to have the least impact on traffic.
Give a friendly wave, smile and thank you to drivers who stop for you.
Be respectful to public safety officers who are directing traffic and pedestrians at the crosswalk. They are there for your safety and to help the flow of traffic.
Be Smart
Always cross within the crosswalk.
Use good judgment. Having the right-of-way will not prevent injury if you are hit by a vehicle.