Congratulations on becoming part of the Transylvania University family! We're thrilled that you are trusting us with your student's college education, and we want you to know that you're an important member of the Pioneer community. Here you'll find important information to help keep you in the loop of everything that's going on with your student's enrollment at Transylvania.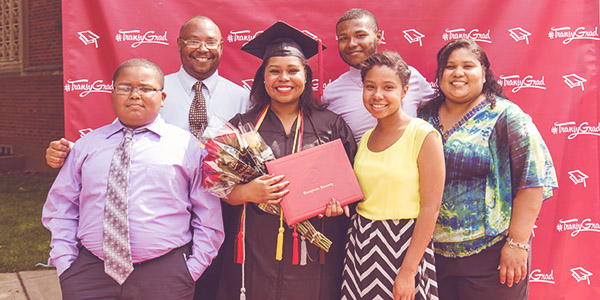 Connect with us
Keep up on what's happening and connect with other parents and families at our Facebook page.
Financial information
To make payments, see due dates, download tax forms and more, visit the Student Accounts page. 
What should I bring?
We know you may be afraid of packing way too much or way too little, so we've compiled a basic list of items your student may want to bring with them to their room. But even if you forget something, there are plenty of places nearby to shop for last-minute additions. 
Move-in day
Move-in day for first-year students is Aug. 24. Members of the Transylvania community will help you move everything into the residence hall room. You should have received your move-in time—if not, just contact Dean of Students Michael Covert at mcovert@transy.edu. 
New student orientation
New student orientation is an opportunity for you and your student to learn all about what it means to be a Transylvania Pioneer. Hear from Student Life staff, meet your student's faculty advisor, attend group discussions and sit in on the induction ceremony. Get all the details in the 2018 orientation schedule. 
Parent's Orientation Schedule
Full 2018 Orientation Schedule
August 24
Event
Location
Date & Time
Description
Move-In
Poole Hall, Thomson Hall, Dalton-Voigt Hall, Pioneer Hall
8/24/2018 8:30 a.m. - 2 p.m.
First Year residents move into their residence hall at their assigned time. Move-In Passes will be mailed home prior to August 24th.
Legacy Lunch
Graham Cottage
8/24/2018 12 p.m. - 1:30 p.m.
By Invitation Only
Administrative Offices Open
Old Morrison

Forrer Hall

Campus Center

8/24/2018 2 p.m. - 4:30 p.m.
Visit our offices!

Old Morrison: Disability Services and Title IX, Registrar, Billing, Center for Academic and Professional Enrichment, Crimson Card, Financial Aid

Forrer Hall: Department of Public Safety, Residence Life, Campus Nurse

Campus Center: Campus and Community Engagement, Diversity and Inclusion, Student Wellbeing

Taste of Kentucky Dinner
Forrer Dining Hall
8/24/2018 4:30 p.m. - 6:30 p.m.
Meal cards or advance purchase tickets required.
Dessert with the Deans
William T. Young Campus Center
8/24/2018 6:30 p.m. - 7:30 p.m.
Meet and mingle with our Deans:

Dr. Laura Bryan, Dean of the University

Dr. Mike Cairo, Association Dean for Academic Affairs

Dr. Michael Covert, Dean of Students

August 25
Event
Location
Date & Time
Description
Parent & Family Orientation: Check-In and Donuts
Alumni Plaza & Carpenter Center
8/25/2018 8 a.m. - 9 a.m.
Rain location: Rafskeller
Parent & Family Orientation: Meeting with Faculty
*See Check-In Information*
8/25/2018 9 a.m. - 10 a.m.
Parents and families will have the opportunity to meet with their student's First Engagements Faculty and advisor for the Fall Semester.
Parent & Family Orientation Session
Campus Center Gym Strickland Auditorium Little Theatre
8/25/2018 10 a.m. - 11 a.m.
Choose to attend one of the following sessions:

Student Well Being and Campus & Community Engagement (Campus Center Gym)

Title IX and Disability Services (Strickland)

Dean of Students and Campus Safety (Little Theatre)

Induction Ceremony
Mitchell Fine Arts Haggin Auditorium & Coleman Auditorium
8/25/2018 11:15 a.m. - 12:30 p.m.
All parents and families welcome to attend this formal induction of the Class of 2022! Students will meet their scholars ahead of time to locate their assigned seats. Parents and family members are welcome to sit behind the Class of 2022.
Lunch and Parent & Family Departure
Forrer Dining Hall
8/25/2018 12:30 p.m. - 1:30 p.m.
Meal cards required. Guests may pay at the door.
QUESTIONS?  
Contact hpiechowski@transy.edu