Connect with Us
Keep up on what's happening and connect with other parents and families at our Facebook page.
Become a Mentor
The 100 Doors to Success Mentor Program matches students with alumni, parents, and/or community members to help them navigate college, explore various career and professional options, or give overall advice. Parents may also volunteer to give a career talk to a group of students. For more information, contact Tracy Dunn, tdunn@transy.edu or 859-233-8148.
Career Opportunities and Internships
We invite you to participate in the Career Development Center where we help students explore internships, career opportunities and graduate schools. Having opportunities to meet professionals from various occupational fields, either in the workplace or on campus, is very helpful to students. If you can provide job or internship information for Transylvania students, please contact Susan Rayer, director of career development, 859-233-8193.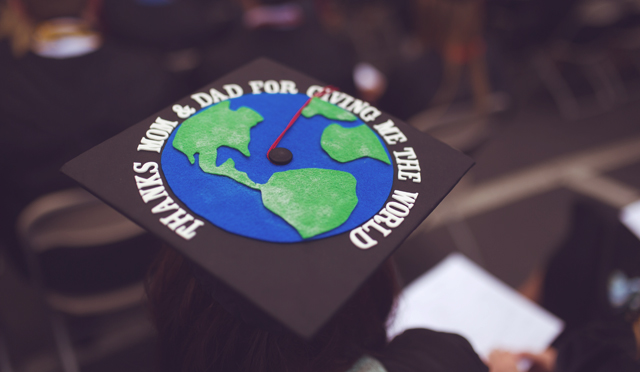 Admission/Recruitment of Students
There are many opportunities to help Transylvania's Office of Admissions, including volunteering at admissions events or talking with parents of prospective students. To refer a prospective student, contact admissions at 800-872-6798 or admissions@transy.edu.
Care Packages for Students
Our Student Alumni Ambassadors (SAA) are a group of dedicated students that strive to serve our university by connecting the past, present, and future. Members of SAA are a select group of students that act in a professional role in direct partnership with the Alumni and Development office. The Student Alumni Ambassadors (SAA) are offering care packages in order to give parents a way bring celebration or good luck–or both! 
Orders are welcome from parents, grandparents, mentors and friends! We have birthday celebration kits available year round and we offer fall and spring final kits! For all care packages, please order at least a week in advance. 
To learn more about our Student Alumni Ambassadors, visit their website at www.transy.edu/SAA.
For all care packages, please order at least a week in advance, click the order now text above to purchase.
Contact Information
Amy Bridges
859-233-8206
abridges@transy.edu
Parents Annual Fund
Every year we meet hundreds of young people of enormous promise whose families are unable to cover the cost of this powerful liberal arts experience. Your gift to the Annual Fund makes scholarships possible and helps to secure the most up-to-date resources and facilities for your family member and their peers. We are grateful to the many parents, grandparents and other family members who recognize the value of this education and continue to support Transylvania's annual fund long after their student graduates. Please contact Amy Bridges, director of annual giving, at abridges@transy.edu or 859-233-8206 for more information on the Parents Annual Fund. For information on supporting other initiatives on campus, please contact Lori Burlingham, assistant director of regional advancement, at lburlingham@transy.edu or 859-281-3564.  
You may make a gift online here.
Join the Pioneer Club
The Pioneer Club supports our more than 350 student-athletes in 26 sports. By becoming a member, you can help those students compete for conference and national championships while receiving a top-notch Transylvania education. And you'll become an athletics VIP—earning free tickets to games, Transy swag and much more. 
Learn more about the Pioneer club, or make a gift now to Pioneer athletics.