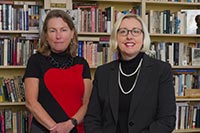 LEXINGTON Ky.—Transylvania University professors and alums made considerable contributions to telling the story of women from Kentucky in a definitive book released this month.
"Kentucky Women: Their Lives and Times" features essays from 17 scholars on a wide range of topics from across the state—from the story of Shawnee chief Nonhelema Hokolesqua to the lasting impact of former Gov. Martha Layne Collins.
Transylvania history professor Melissa McEuen co-edited the book along with Thomas H. Appleton Jr., an Eastern Kentucky University history professor. Contributors include Martha Billips—who is a Transylvania graduate, English professor and associate dean for academic affairs—and alum John Paul Hill.
"As a historian of American women, I am thrilled to have worked on this volume featuring so many creative and committed women in Kentucky's rich past," McEuen said. "Their stories reveal not only Kentucky's contributions to social reform, health care, politics and cultural development but also the central place of women in these endeavors. Suffrage debates, frontier myths, world's fairs, divided families, the Civil War, the civil rights movement and numerous other subjects fill the pages of the book."
McEuen's essay on Nancy Newsom Mahaffey is titled "Preserving Heritage Foods in the 'Ham Heartland.'"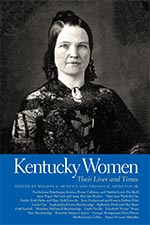 Billips, who wrote "A Writer's Life," said she feels "honored and privileged to have contributed an article on fiction writer Harriette Simpson Arnow. The editors have created an important volume that reflects the diverse experiences of the state's women from the frontier period to the present. The breadth and range of the coverage will set the standard for years to come."
Southern historian Margaret Ripley Wolfe also praised the book, saying, "This will be the publication on Kentucky women for many, many years to come. I hope that it will be adopted and used as assigned reading in all appropriate classes throughout Kentucky."
The University of Georgia Press, which published the collection, said it "features women with well-known names as well as those whose lives and work deserve greater attention." By including such a variety of women's experiences, the contributors "have shaped a history of Kentucky that is both grounded and groundbreaking."