Transylvania University's Morlan Gallery hosts a variety of exhibitions from September to May with an emphasis on work made within the last decade from Western and non-Western viewpoints. A "laboratory of thinking," the gallery encourages experimental installation, performance and digital artworks, as well as more traditional media, such as painting, photography and sculpture. Morlan is located on the main floor of the Mitchell Fine Arts Center, situated just off Fourth Street between North Broadway and Upper Streets, where parking is free, close by and ample, especially after 3 p.m. Click here for our campus map, driving directions and parking lot locations.
The gallery is open weekdays, noon to 5 p.m., and by special appointment. Call the gallery director at 859-233-8142 to make arrangements. All events are free and open to the public; just go to the Calendar Overview to learn about our offerings this year.
The Morlan Gallery participates in the Lexington Gallery Hop, a self-guided tour of the visual arts in downtown Lexington. Patrons visit the sites of their choice, beginning at any location. It occurs 5-8 p.m. on the third Friday of January, March, May, July, September and November. Hop began 27 years ago and continues to be the premier event for the visual arts in Lexington. Admission is always free and sites present a new exhibit for each hop. Most sites offer refreshments for guests. We hope to see you in the Morlan Gallery at the next Gallery Hop!
A Quick History
Transylvania University's Morlan Gallery was launched when the Mitchelle Fine Arts Center was dedicated in the fall of 1966. Named after the late Mrs. Myrtle Critchfield Mitchell, president and chairman of the board of the Coca-Cola bottling plant of Lexington, the Mitchell Fine Arts Center was Transylvania's most ambitious physical plant undertaking up to that time. 
The Halford and Perywn Morlan Gallery was a tribute to the then late Halford J. Morlan, who was described as a "distinguished physician and churchman of Phoenix, Arizona, and to his wife, Perwyn Morlan, an artist whose work will long be treasured." 
In 1978, Nancy Wolsk joined the university staff as a part-time instructor of art history and part-time gallery director. At the time, Wolsk said of the Morlan Gallery, "I am not displeased with the basic design of Morlan Gallery." However, the walls—which were covered with brown peg board—were an "optical frenzy" and were niched by structural beams. 
That simply would not do.
With scarce funds, major wall construction was completed by professionals, but all the finishing work was left to Wolsk (now professor of art history) and art professor Dan Selter (now emeritus) and three dedicated work-study students. It was a very long and difficult task that included filling thousands of nail holes, sanding the walls by hand and donning respirators to seal the walls with polyester resin that reportedly filled the entire campus with a horrendous odor. The gallery was finally completed with the much appreciated help of a Pi Kappa Alpha fraternity pledge class.
Today in Morlan
Still in its original location—the main floor of the Mitchell Fine Art Center on Transylvania's historic campus—Morlan Gallery continues to offer art work that challenges, encourages a variety of viewpoints and features work from artists around the world and around the corner. The peg board walls are long gone, but the pioneering spirit endures.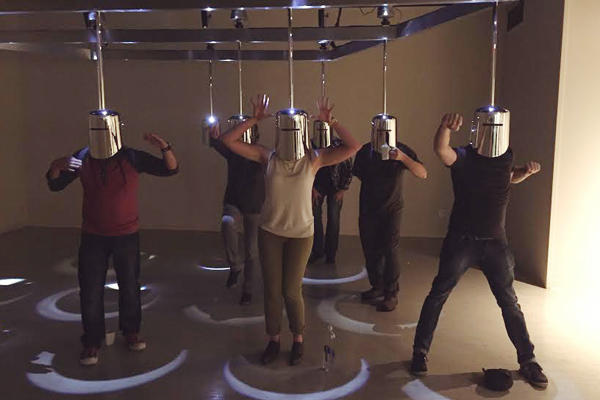 Community Outreach
Morlan Gallery is committed to reaching past the borders of the Transylvania University campus as a community resource and visual arts ambassador in a variety of ways:
Through the Empty Bowls Project we have raised over $30,000 in 12 years to help feed Lexington's hungry; we hosted North Limestone Gathers, an exhibition showcasing collections and stories from our immediate neighborhood; and actively participated in celebrating the World Equestrian Games' first United States appearance, by hosting childrens' authors and a gallery treasure hunt for the young and young at heart.
And of course, we also offer artist lectures, exhibition receptions and events on a regular basis, all free and open to the public. Notable artists, curators and poets have shared their insights and talents for over two decades to audiences hailing from the Transylvania and Lexington communities.
In addition, when the Morlan Gallery has exhibitions appropriate for school-aged children, we invite them into the gallery space to experience the artwork up close, and join in discussions about they are seeing (and hearing) in the gallery. Sometimes, our school-aged visitors even make their own creations, like art from recycled materials when Morlan was exhibiting Trashformed. And other times, students make their very own exhibitions, like the fourth graders from William Wells Brown Elementary School who filled the gallery with fantastic chalk portraits.