2019 Year End Giving
As you say farewell to 2019 and prioritize your year-end giving, we ask that you remember Transylvania and the many ways your gift will impact our students. Your gift is tax deductible for 2019 if received by the noted deadlines below. 
There are numerous ways to ensure your gift's delivery.
Ways to make your 2019 year-end gift:
Credit Card — Online credit card gifts must be made by 11:59 p.m. EDT, Tuesday, December 31, 2019. Click here to make a gift now. Please note that if you are mailing in your credit card gift we must receive it by Friday, December 27 in order for our staff to process it within 2019.
Text-to-Give — It is quick and easy! Simply text GIVE to (859) 209-3640, and your phone will walk you through the remainder of the process.
Check — Make it payable to Transylvania University and mail to: Development Office, Transylvania University, 300 North Broadway, Lexington, KY 40508. Envelopes must be postmarked by Tuesday, December 31, 2019 to receive a current year tax deduction.
In Person — The Alumni & Development Office will be open on its regular schedule through 4:00 p.m. on Friday, December 20, 2019. We are located at 415 North Broadway, Lexington, KY 40508. There is a circle drive in front of our office for easy parking. We will also be in the office on December 27 and December 31 from 10:00 a.m. to 1:00 p.m. If you would like to arrange for drop-off at any other point during the University's holiday break, please contact us at giving@transy.edu and we will be happy to accommodate you!
Stock — Stocks must be received in Transylvania's account by Tuesday, December 31, 2019 at close of market. Please work with your broker to ensure adequate transfer time. Be sure to email the type and number of shares to giving@transy.edu so we may promptly credit you with the gift.
Legal Name: Transylvania University, Lexington, Kentucky
Federal Employer Identification Number: 61-0444825
DTC #: 0164 code 40
Account #: 4364-1856
Broker: Charles Schwab
Broker Contact:
Steve Whitcomb
Charles Schwab
Lexington, KY
(859) 224-0547
If you are interested in contributing to The Transylvania Fund, making a gift to a specific program, or establishing a planned gift, one of our development officers can assist you at giving@transy.edu or 800-4-Transy (800-487-2679).
Your donations impact the Transylvania community and our students in so many valuable ways; thank you for your generosity and support. We wish you and yours a happy holiday season!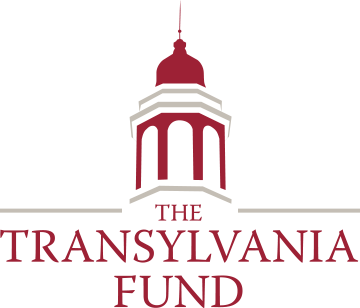 The Transylvania Fund, the annual giving program for Transylvania University, supports scholarships for those who could not otherwise afford to come to Transy and provides for the greatest needs of current and future Pioneers. While most of the Fund provides scholarships for students in need, additional dollars provide the university the ability to enhance student programming, invest in faculty and staff, as well as improving the quality of life on campus – essentially our students' greatest needs. Read more about the Transylvania Fund.