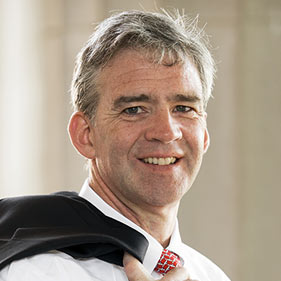 I want to begin with a story. I started college as a pretty good student. I'd done most everything right in high school, but I knew I could have done more. In my sophomore year at college, I took Professor McCarthy's philosophy class. We read Plato, Aristotle, St. Thomas Aquinas, and other great thinkers. Within a few weeks, I found myself skipping parties to go to the library to study and began to visit Professor McCarthy during office hours to talk about the texts we were reading.
My parents noticed pretty quickly something was different. I was talking to them about my classes and recounting animated conversations I was having with professors and classmates in the student center and dormitories. While they were pleased with my newfound dedication to studying, they were also concerned. They loved that I loved my philosophy classes, but they weren't sure what I would do with a philosophy degree. And to tell the truth, neither did I. But I knew I was working harder than I had ever worked at anything and I didn't want to stop.
At Transylvania, we don't want students who find a passion for learning to stop either. We want our students to enthusiastically embrace liberal learning as they work their way through the curriculum. But we recognize the real concerns parents are expressing about the practical value of such an education, especially in the economic climate we live in today. The liberal arts need to offer students a transformative experience through which they become passionate learners. Society needs the values, the openness to new ideas, and the flexibility that a liberal arts education provides. But we also need to prepare our students for the professional lives that await them.
Shortly after being named president of Transylvania University, it became clear to me that there is a special bond between Transylvania alumni and their alma mater. The commitment and dedication of alumni from all different eras is striking. In addition, the level of success achieved by so many Transylvania alums speaks to the consistent quality of a Transylvania education.
What better way for Transylvania to provide the optimal educational experience for our students than to pair them with our talented alumni base? To this end, we have created a mentoring program, 100 Doors to Success.
We are committed to providing connections between students, alumni and friends of the university so that our students can pursue their intellectual passions while also preparing for successful careers.
If you have questions or interest in participating, please contact Tracy Dunn at (859) 233-8148.
Sincerely,
Seamus Carey
President