Ever played Quidditch or wanted to be a radio DJ? Maybe you're more interested in learning how to invest in the stock market or mastering karate. Whatever your interest, there is an organization at Transylvania that is just right for you.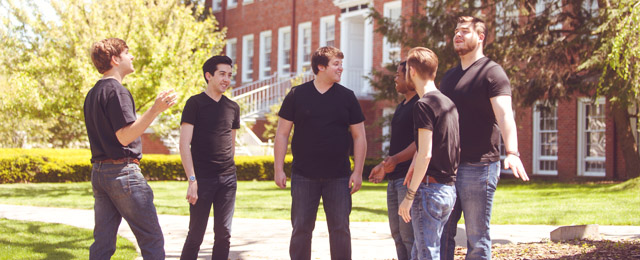 Student Government Association
The Student Government Association (SGA) is the official governing body of Transylvania students. SGA serves as a voice for student interests, provides opportunities for students to develop leadership skills and helps students gain experience for future careers. SGA serves as a liaison between the student body, the faculty and administration. The academic affairs committee, which promotes student interests among the faculty, sponsors an annual SGA research and scholarship symposium and plans lectures and panel discussions throughout the year. The student life committee advises the dean of students on all matters concerning student policies, as outlined in the student handbook. Other committees are involved in several areas of campus.
To learn more about the Student Government Association, visit the SGA website.
Student Activities Board
Student Activities Board is a representative governing body of students who together are responsible for helping to shape a positive campus culture that celebrates in the legacy of the University while supporting innovative, student-led programming. Funding is available to student organizations wishing to host on-campus activities that help to celebrate and deepen student engagement, learning and school pride. In addition to supporting organizations, SAB hosts signature campus events like Welcome Week, Stress Fest, Raf Week, Crimson Affair and Spring Fling.
Greek Life
Greek organizations have been an integral part of the Transylvania community since 1888. During that time, the Greek community has endeavored to improve the lives of its members and the community through academic excellence, leadership development, a focus on service and philanthropy and a commitment to living their values.
Today, approximately 53 percent of the student body is a member of a fraternity or sorority. Though there are eight different national chapters on our campus, all share common principles and enhance the educational experience by emphasizing intellectual and social development. 
Fraternities

Delta Sigma Phi
Kappa Alpha Order
Phi Kappa Tau
Pi Kappa Alpha

Sororities

Alpha Omicron Pi
Chi Omega
Delta Delta Delta
Phi Mu
For more information about Greek Life at Transylvania or to register for recruitment, contact the Campus and Community Engagement staff.

Pioneer Leadership Program
Pioneer Leadership Program is a co-curricular experience that helps students explore leadership theories and develop a skill set and encourages meaningful engagement in campus and community life. This program is designed to promote civic responsibility through the social change model. Together with their peers, students will be introduced to campus resources, learn and reflect upon diverse leadership styles and put skills to practice for the betterment of the collective.