Project SEE Theatre continues professional residency at Transy with "Marie Antoinette"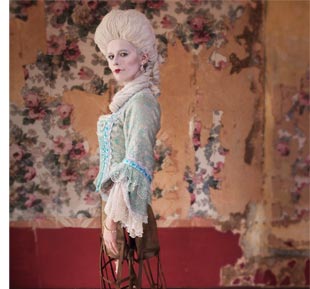 Project SEE Theatre will present playwright David Adjmi's saber-toothed satire of privilege and political doom, "Marie Antoinette," in Transylvania University's Little Theater for five performances from May 17–21.
"Marie Antoinette" marks the second annual production of the university's professional theater residency program, which is sponsored by the Dixon/White Theater Fund. The fund also underwrites the cost of tickets, which makes the professional productions free to the Lexington theater-going community.
The Project SEE residency gives students a chance to work and perform alongside theater professionals, said director Sullivan Canaday White, who is a Transylvania professor and founded Project SEE Theatre in 2010 with Ellie Clark and Evan Bergman.
While depicting the past, the upcoming production of "Marie Antoinette" will resonate with modern audiences. "Adjmi's acerbic wit and unflinching depiction of class warfare offers a cautionary tale for America in the 21st century," White said. "Though the play begins with royal diversions and regal amusements, it quickly descends into the chaos and violence of the French Revolution. I don't think the historical ending needs a spoiler alert, but the death spiral of the French aristocracy clearly portrays what can happen when the billionaire class loses touch with the needs of the 99 percent."
Hailed by Time Out in New York as a "jagged yet elegant historical riff," Adjmi's contemporary take on the ill-fated queen of France unmasks an aristocracy whose addiction to entertainment turns their dream of untold wealth into a nightmare of resentment and revenge. The cast features Clark in the title role and Bergman as her confidant and possibly clandestine lover, Axel Fersen. Clark is an MFA Candidate in Ohio University's Professional Actor Training Program; and Bergman received his MFA last year from the University of Virginia and joined Actors Equity Association. Both appeared in Project SEE productions of "Big Love," "Burn This," "boom" and "Ellis Island: A Dream of America." In addition, Clark performed in "The 12 Dates of Christmas" and Bergman directed "The Hotel Baltimore" and "Lonely Planet."
Actors returning to Project SEE include Timothy Hull (who plays a sheep), Nick Vannoy (Louis XVI) and Ginna Hoben (Therese De Lamballe), who performed and wrote last year's Project SEE/Transylvania University production of "No Spring Chicken." The cast also features Drew Davidson as Marie Antoinette's brother, the Holy Roman Emperor Joseph II and Lexington-native Avery Wigglesworth as Yolande De Polignac, a duplicitous courtier.
Transylvania students featured in the cast include Jared Auton as The Dauphin and Haberlin Roberts and Aaron Botts as Mr. and Mrs. Sauce, respectively. Rounding out the ensemble are London Dailey, Moira Hedrick, Mollie LaFavers, Nikki Ramos, Amberlee Stemmer and Natassja Woodrum.
The lighting and sets, which include a palace, carriage and guillotine, are designed by Project SEE company member and Transy faculty member Michael O. Sanders. Missy Johnston creates the 18th century costumes with a nod to contemporary fashion. Gretchen Shoot stage-manages, and Melissa T. Hall conceived and designed artwork for the poster and program. The theater company is also supported through the generous contributions of Friends of Project SEE.
If you go
"Marie Antoinette" will be performed in Transylvania University's Little Theater May 17-21, Wednesday through Saturday evenings at 7:30 p.m. and a Sunday matinee at 2 p.m. Tickets are free, but because of limited seating reservations are recommended.