Transylvania values the intellectual connections that exist across myriad academic disciplines. The following programs combine several fields of knowledge to produce well-rounded graduates.
---
Environmental Studies
The environmental studies minor asks how we relate to the world around us and how we might improve that relationship. This minor supplements all majors and prepares students for a life of critical and informed reflection on the biological, cultural and social issues related to environmental concern.
Within a liberal arts context, students use the natural sciences to understand the environment, the social sciences to examine the impact of human activity on it and the humanities to reflect on the deeper meaning of our place within nature. Students may augment the minor with interdisciplinary research, independent study and internships. The environmental studies minor offers the opportunity to participate in environmental initiatives on campus, including the Transylvania Community Garden and the campus sustainability initiative.
Exploring the issues raised brings a richer understanding of our present that equips students to make a difference in a changing world.
For more information, contact Alan Bartley, director of environmental studies.
---
International Affairs
The international affairs major and minor seek to understand the behavior of states by examining the structures that make up the international political system. Students trace the historical roles of diplomacy, international law and war in shaping the international system, as well as examine the nature of international relations today.
Drawing from anthropology, economics, history, religion and sociology, the international affairs program focuses on understanding why states and other international actors behave the way they do. Emphasis is placed on the roles of geography, religion and recent history in shaping states, international organizations and multinational businesses. International affairs students are required to demonstrate proficiency in a foreign language.
The study of international affairs enhances and enriches many careers, including business, economics, history, law and political science. As globalization, sustainability, terrorism and foreign intervention continue to shape our world, the international affairs program prepares students to meet the challenges of tomorrow.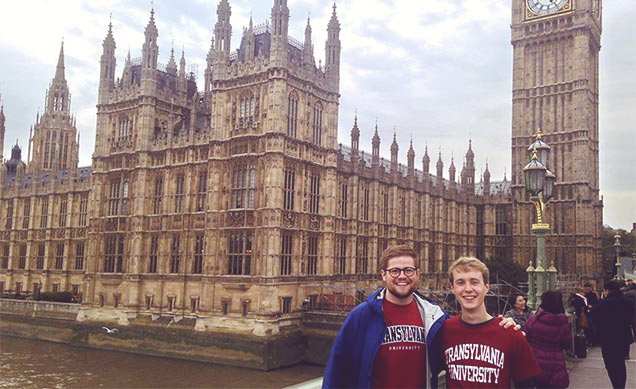 For more information, contact Gregg Bocketti, director of international affairs.
---
Latin American and Caribbean Studies
The Latin American and Caribbean studies minor focuses students' attention on the peoples of Latin America and the Caribbean, including their diasporas. By learning about the cultural, historic and economic context of the region, students gain an understanding of its contemporary societies.
The minor draws its courses from a diverse collection of disciplines, including anthropology, history, political science, sociology and women's studies. Students are strongly encouraged to pursue proficiency in one of the region's languages and take advantage of study abroad or May term travel opportunities.
Issues such as globalization, migration and cultural diffusion continue to provoke national and international conversations. The Latin American and Caribbean studies minor connects students and faculty to these exchanges. As the world becomes increasingly interconnected, a minor in Latin American and Caribbean studies makes Transylvanians better neighbors, better citizens and better participants in global culture.
For more information, contact Jeremy Paden or Gregg Bocketti, co-directors of Latin American and Caribbean studies.
---
Philosophy, Politics and Economics
Students majoring in philosophy, politics and economics (PPE) discover the logical and historical connections among philosophical, political and economic thought and rigorously prepare for graduate study or careers in law, business, public policy and public service.  
Thinkers as diverse as Aristotle, Adam Smith, Karl Marx, Friedrich Hayek and Angela Davis have understood that thoughtful examination of human societies and what constitutes effective conduct within them requires a mastery of all three disciplines. Transylvania's unique PPE program—which also draws on courses in history, literature, sociology, business, women's studies and the fine arts—encourages students to consider both the way these three disciplines gracefully intersect and the way they (often fruitfully) clash.
For more information, contact Peter Fosl, director of PPE.
---
Women's, Gender and Sexuality Studies
Women's, gender and sexuality studies is an interdisciplinary academic program that aims to expand students' understanding and appreciation of women's lives and experiences both historically and in contemporary societies throughout the world.
Students learn how the application of a gendered lens has challenged traditional historical and cultural assumptions. Students also gain a systematic knowledge of scholarship about women and gender. Because courses examine the ways in which gender has structured intellectual and social traditions within academia, or natural sciences, the minor is an excellent complement to many majors, including history, anthropology, sociology, philosophy, political science, economics and biology.
The women's studies program contributes to the university's teaching, research and service missions by furthering university and societal goals of diversity, tolerance and equity. In addition, students enrolled in the women's studies minor may take advantage of unique opportunities for research, writing and activism outside the classroom by enrolling in an internship or directed study.
For more information, contact Simona Fojtova, director of the women's, gender and sexuality studies program.
---
Asian Studies
The Asian studies minor focuses students' attention on the people of Asia, including their diaspora. Students gain an understanding of the region's historical and contemporary societies and cultures by completing courses in various disciplines.
For more information, contact Qian Gao, director of the Asian studies program.