More Transy Success Stories
"In working with students as they select majors and investigate careers, we want to examine their values, skills, personalities and interests as well as learn more about the world of work," said Mike Nichols, a psychology professor and career counselor.
Transylvania facilitates real-life career experiences that can show students pathways they didn't even think possible and free them from self-imposed limitations such as: I'm an accounting major so I should be a CPA. (After all, the "liberal" in "liberal arts" is derived from the Latin word for free.)
Through programs such as the 100 Doors to Success mentoring initiative and internships (academic or otherwise) facilitated by the university's Career Development office, students travel beyond the Transy bubble to learn about an array of career possibilities—often stepping outside their comfort zone. "It's like Baskin Robbins: 31 flavors," said Susan Rayer, director of career development. "Taste test. Go out and see what you like to do."
It's not likely Rayer will let this ice cream sit around long enough to melt. She is adamant that students in their first year of college start to think beyond graduation. "You always begin with that end result: a successful life after Transy," she said. "The liberal arts are a foundation for a successful life."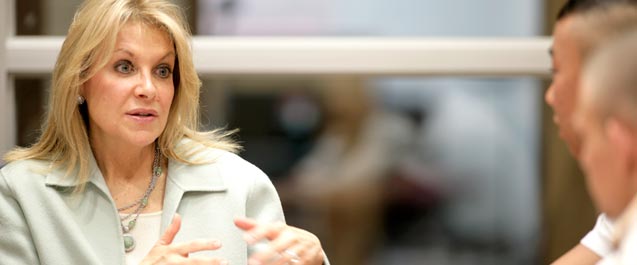 First-year students, who often don't yet know what they want to do after they graduate, are required to meet with a Transy Career Development counselor and are encouraged to find a mentor through the 100 Doors program.
Spearheaded by President Seamus Carey, 100 Doors pairs students with alumni who have a wealth of life and work experience to share.
The extraordinary response to the new program surprised Director of Mentoring Programs Tracy Dunn '90. When the pilot program started last spring, hopes were to sign up 50 pairs—but the total was twice that and has since climbed to 200. "Now the challenge will be finding more mentors for incoming classes," Dunn said.
Complementing this one-on-one interaction is a new program called Alumni on Location. Dunn takes groups of students to different cities to observe Transylvania graduates at work in a variety of fields— thus exposing them to many career possibilities and deepening their appreciation of how different disciplines work together.