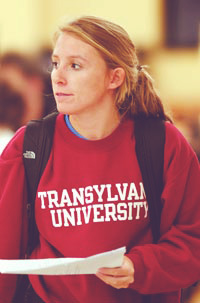 More than 90 percent of students recommended for medical school and 100 percent of students recommended for law school are accepted.
Institution type: Private liberal arts college
Location: Downtown Lexington, Ky., a thriving city of 300,000 people.
Enrollment: 1,050
Founded: 1780 as the 16th college in the United States
Affiliation: Christian Church (Disciples of Christ), although the campus community embraces individuals of all faiths and spiritual practices.
Accreditation: Accredited by the Commission on Colleges of the Southern Association of Colleges and Schools to award the bachelor of arts degree.
President: Seamus Carey became Transylvania's 26th president on July 1, 2014.
Tuition and Fees: $35,830
Room and Board: $9,600
Student/Faculty Ratio: 11:1
Average Class Size: 13
Receiving Financial Aid: 98%
Endowment: $162 million as of June 30, 2015
Students
Female: 57%
Male: 43%
Students of color: 13%
Out-of-state: 23%
International: 3%
Academics
40 majors, with the opportunity to design your own.
Pre-professional preparation for law, medicine, engineering and accounting
Total full-time faculty: 95
Faculty with a terminal degree: 98%
Percentage of classes with 10 or fewer students: 41%
Academic Calendar: August term for first-year students, two 14-week terms, May term, optional summer session
Student Outcomes
First-year retention rate: 87%
Average time to graduation: 4.11 years
More than 90% of students recommended for medical school are accepted.
100% of students recommended of law school are accepted.
95% of students are in graduate school or employed within 6 months of graduation.
Campus Life
92% of first-year students live on campus; 76% of all students live on campus.
90% of students participate in community engagement opportunities
More than 50 student organizations
26 intercollegiate athletic teams