Morlan Gallery
Lake Effect
September 10 – October 18, 2018
Claire Ashley, Susanna Coffey, Jaclyn Mednicov and Maryam Taghavi

Art Talk and Reception with the Artists | Thursday, October 18, 6 - 8 p.m.
This exhibition, facilitated by Trevor Martin '92, Executive Director of Exhibitions at the School of the Art Institute of Chicago, features a quartet of contemporary artists connected to the city of Chicago. Through painting, sculpture, installation, and video, their works celebrate color, texture, and repetition to interrogate a range of material use and form.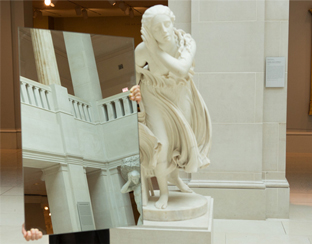 Maryam Taghavi, Untitled (Study on a Silhouette), 2016, video, looped 25:45, photo Joshi Radin
Study on a Silhouette Essay by Bavand Behpoor
Special Events and Hours
Curator's Talk with Trevor Martin |Thursday, Sept. 20, 6 p.m., Morlan Gallery
Lexington Gallery Hop Reception| Friday, Sept. 21, 5-8 p.m.
Art Talk with Claire Ashley and Jaclyn Mednicov |Thursday, Oct. 18, 6 p.m., Morlan Gallery,
followed by a reception from 7-8 p.m.
Evening Hours | Wednesday, Sept. 26, 6:30-7:30 p.m. and Tuesday, Oct. 9, 6:30-7:30 p.m.
Closed October 15, 16 for Fall Break
---
Something Pretty
October 29 – December 4, 2018
Tiffany Calvert, Angela Dufresne, Justin Favela, Stephen Rolfe Powell,
and HuiMeng Wang
Lexington Gallery Hop Reception for the Artists | Friday, November 16, 5 - 8 p.m.
As an adjective, pretty has many connotations. To be pretty is to be aesthetically pleasing, sensorially charming, and relatively beautiful. Yet the relative nature of that beauty also often renders things that are "pretty" as diminutive, decorative, and vapid. Yet even with this dismissal, we, as human beings, are invariably drawn to things that are pretty, and their aesthetic pleasure has the capacity to carry with it a further exploration of many theoretical, political, and practical issues. This exhibition seeks to complicate the notion of "pretty" by bringing together artists whose work engages with the aesthetics of prettiness, yet undercuts the diminutive and dismissive connotations of the label. This exhibition curated by Transylvania University assistant professor of art history, Emily Elizabeth Goodman, Ph.D.
Special Events and Hours
Curator's Talk with Emily Goodman | Thursday, Nov. 8, 6 p.m.
Artist Talk with Tiffany Calvert | Thursday, Nov. 15, 6 p.m.
Lexington Gallery Hop and Reception for the Artists | Friday, Nov. 16, 5-8 p.m.
Weekend Hours | Sunday, Nov. 11, 2-3 p.m. and Sunday, Dec. 2, 2-3 p.m.
Closed November 20-23 for Thanksgiving
---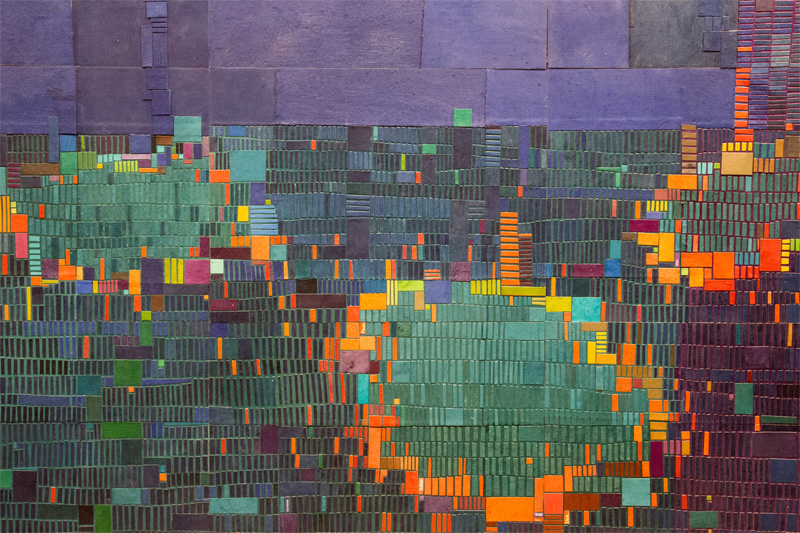 Laurie Frick, Processing Interface_1, 2019, Hand-cut, hand-dyed khadi paper on 9 panels, 54"x 72"
Data, Mine
January 16 – February 19, 2019
Work by Hasan Elahi and Laurie Frick

Discussion and reception with the artists on Thursday, Jan. 24—details below!
---
Hasan Elahi and Laurie Frick create artwork inspired by information. Vast quantities of information.
Like generations of artists who came before them have done, Elahi and Frick respond to contemporary social, cultural, and political events. However, the relatively recent addition of technology has added to their toolkits as artists. The accessibility of big data and the ability to search, analyze and share that information allows these artists to create portraiture in compelling new ways, recognize fresh patterns and connections, and share that information with potentially billions of people worldwide. Elahi and Frick address issues of cultural migration and disappearance, self-surveillance, record keeping, and relationship mapping through a variety of common technological processes.
When examining the artworks in Data, Mine, beautiful patterns of information emerge, more referential to textile design than scientific graphs or lines of code. Similarly, questions begin to emerge, such as: What are the expectations of privacy when using the internet? Who owns our personal data? Do we have freedom of movement and expression? How can we use data to improve our mental and emotional health?
About the Artists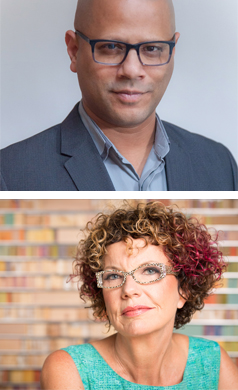 Hasan Elahi, who is a University of Maryland art professor, started an elaborate project in self-surveillance in the early 2000s when he was mistakenly put on a terrorist watch list. His work examines issues of surveillance, citizenship, migration, transport and challenges of borders and frontiers. Elahi has received great attention, earning major grants and fellowships from Guggenheim, Creative Capital, the Doris Duke Foundation of Islamic Art, and the Ford Foundation, among others. He was invited to speak about his work at the Tate Modern and has shown in numerous exhibitions, including the Centre Georges Pompidou, Sundance Film Festival, The Hermitage, and at the Venice Biennale. Elahi's work is frequently in the media and has been covered by the New York Times, Forbes, Wired, and The Colbert Report. When not on an airplane, Hasan resides in Portland, Oregon.
Laurie Frick, an artist with a business background, anticipates the future of data and envisions a time when personal data is a unique glimpse into our hidden personality. Her insights on consuming data have been featured on NPR, and The Atlantic and WIRED magazines; and she has been invited to talk at Google, Stanford, the Eyeo Festival, and TEDX Austin. Frick has been recognized for her work with numerous residencies and awards, including Samsung research and University of Texas Neuroscience lab. Frick holds an MFA from the New York Studio School, an MBA from the University of Southern California and studied at New York University's ITP program. An energetic creator, in 2018 she built permanent data art installations at Facebook, Capital One, Downtown Austin, Texas A&M and Michigan State University. Frick is currently mining data from the OkCupid dating site to create visual patterns helping people to better understand one another. She lives in Austin, Texas.
YOU'RE INVITED—An Evening with the Artists
Thursday, Jan. 24, 6-7 p.m.
Carrick Theater, Mitchell Fine Arts Center

Artists Hasan Elahi and Laurie Frick have appeared on the TED TALK stage, The Colbert Report, National Public Radio, and WIRED magazine. Now attend their talk, moderated by Dr. Emily Goodman: You're Being Followed: A Discussion about Data Prediction, Privacy, and Digital Tracking. This conversation is followed by a reception for the artists in the Morlan Gallery.
Coinciding with the "Data, Mine" exhibition, Transylvania's Creative Intelligence series will present two additional events:
Data Visualization with Tim Meko of The Washington Post
Thursday, Jan. 31, 7:30 p.m.
Carrick Theater, Mitchell Fine Arts Center
As the Post's Deputy Graphics Director, Tim Meko, uses data, design and code to distill the most complicated information into decipherable and often stunning visuals. The Transy alumnus will talk about his work and how he taps into his liberal arts education to do the job.
Medical Application of Data and 3D Digital Elements
Thursday, Feb. 7, 7:30 p.m.
Carrick Theater, Mitchell Fine Arts Center
Medmovie distills life sciences information into comprehensible visual stories. 3D Systems creates digital anatomical models and animation for medical schools and research, and is involved in biomedical and surgical application (3D printing surgical elements). Learn from the people who do the work, including Kim and Rick Gersony of Medmovie and Miles Frasca of 3D Systems Corporation.
All events are free and open to the public. This exhibition has been generously supported by Transylvania University's Digital Liberal Arts initiative.
---
March 1 – April 10, 2019
Senior Art Exhibition: Half Dozen
Jessie Dees, Samara Lyons, Josh Porter, Sarah Schaaf,
Sonora Schuck and Stephanie Wayne
"Half Dozen" is the culminating exhibition for Transylvania University's six graduating studio art majors. Addressing a variety of topics, from American history to personal identity, the "half dozen" students use a variety of materials and techniques to engage their audience, personal curiosity, and art practice.
Special Events and Hours
Opening Reception for the Artists | Friday, March 1, 5-7 p.m.
Art Panel with the Seniors | Thursday, March 7, 7-8 p.m.
Closed the week of March 11 for Spring Break
Lexington Gallery Hop | Friday, March 15, 5-8 p.m.
Evening Hours: Tuesday, Mar. 19, 6:30-7:30 p.m. and Wednesday, Mar. 27, 6:30-7:30 p.m.
---
ABOUT THE ARTISTS
"I have been a maker all my life. I love bringing ideas and concepts into reality. Designing and bringing things into existence is an incredible experience and ability that I've cherished in all my years.
"Ever since I was young, I have always loved and had a passion for art and architecture. Throughout my years, I have engaged in a variety of art mediums, but it wasn't until taking two sculpture courses at Transylvania that I really started to appreciate the use of recycled materials and found objects. Therefore my work explores art and architectural ideas into opposite forms by repurposing everyday materials and transforming them into the new and unexpected, as a way to bring a fresh perspective to familiar objects.
"As an artist and art historian, I have a strong passion for socially engaged art and feel a strong connection to being an artist, activist, and curator in my practice. Creating a balance between theory and practice is at the core of my aspirations in the art world. In my work, I like to challenge ideas of patriotism and identity with references to social issues as well as personal struggles."
"I was born in Shepherdsville, KY in 1996 and having grown up on my family's' farm and veterinary clinic, I developed a strong passion and appreciation for nature and animals. I find inspiration in the natural world and the works of the impressionist painters, influencing my use of color and form. I work in a variety of mediums, but finds that Oils, Watercolor and Photography allow me to best portray the world through vibrant colors, intricate details and a loving hand. In this exhibition, I explore the significance of Remembrance and the men and women involved in the First World War. My work explores humanity in war and juxtaposes the violence and destruction of warfare with the brilliance and resiliency of the natural world. I emphasize both the individual, the masses and the toll that the war played on each. My work is intended to implore the audience to dwell on the idea of remembrance and its fleeting nature in our nation's memory as well as calling for a celebration of peace instead of conflict."


"I am a mixed media artist with specialties in relief printing and ceramics, using the expressive qualities of line and form to create whimsical pieces with a darker twist. I draws inspiration from art history, my relationship with my physical surroundings, and my observation of patterns in thought and behavior in my personal life."
"I have been fortunate enough to have lived not only in several states, but also three other countries throughout my life, and has visited even more. My travels and Panamanian heritage have strongly influenced my identity, and naturally my art practices as well. Recently, I have explored alternative ways of making molas (an indigenous art practice of Panama) and depicting joy in my works through lively colors and expressive lines. As Johannes Itten said, "color is life because a world without it appears to us as dead." As an artist, I hope that I convey joy to my audience, but also, in general, brings more joy into the world."
---
May 3 – 17, 2019
Juried Student Art Exhibition
Download the 2019 Juried Student Art Exhibition Entry Form
Art majors and non-art majors alike contribute work in a wide variety of media to this inventive exploration of creativity.
Special Events and Hours
Opening Reception | Friday, May 3, 5-7 p.m.; awards presented at 6 p.m.
Lexington Gallery Hop | Friday, May 17, 5-8 p.m.