Morlan Gallery
Street Tested: Kentucky Graffiti Artists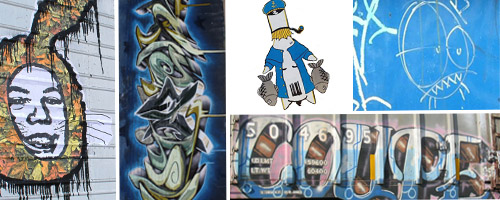 featuring BRRR, Coupe, Dronex, and Left-Handed Wave 
Sept. 12 – Oct. 17, 2014
(Closed Oct. 13,14 for fall break)
Five of Kentucky's most celebrated graffiti and street artists exhibit writing, tags, illustrations, and more. Street Tested is an entré into the flourishing subculture of graffiti artists; learn more about this form of urban art, the vocabulary, and the far-reaching influence of Kentucky's graffiti artists. Curated by Lexington's Dronex, Street Tested coincides with the PRHBTN's latest installation of Lexington murals by world-renown street artists, including Bastardilla, ROA, How & Nosm, and more.
Special Events
Opening Reception: Fri., Sept. 12, 5-8 p.m.
Lexington Gallery Hop: Fri., Sept. 19, 5-8 p.m.
Artist Talk: Andrew Hem, Wed., Sept. 24, 5:30 p.m., Carnegie Center for Literacy
---
Rural Women: Photographs by Maxine Payne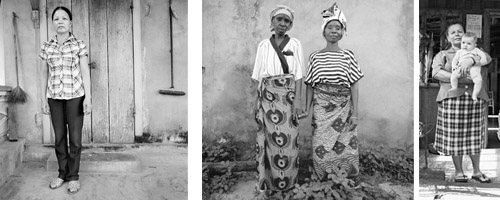 Oct. 29 – Dec. 2, 2014
(Closed Nov. 26-28 for Thanksgiving)
Photographer Maxine Payne has been working with anthropologist Anne Goldberg on the Rural Women and Globalization Project since 2006. They have documented the lives of rural women using oral history and photography in five sites: San Luis, Costa Rica; Bagamoyo, Tanzania; Vinh Linh, Vietnam; Douglas, Arizona, and Agua Prieta, Sonora, on the United States-Mexico border; and rural Arkansas. BONUS! Rural Women was inspired by Payne's discovery of the work of Depression-era photographers John and Mancy Massengill, whose original work is on view at Institute 193 from Oct. 2 - Nov. 15. 
Special Events
Opening reception, Wednesday, Oct. 29, 5-8 p.m.
Lexington Gallery Hop: Fri., Nov. 21, 5-8 p.m.
---
DWELLINGS: Contemplating Home, House, and Neighborhood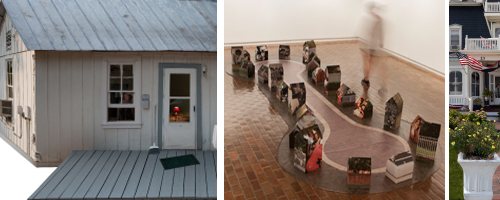 Featuring Libby Rowe 
Jan. 14 – Feb. 21, 2015
Texas artist Libby Rowe deconstructs notions of home, house, and neighborhood in this one-person exhibition that features photography and sculpture. In three major works, Inside/Out, (sub)Division, and Dwell, Rowe cleverly casts a fresh gaze on the façade-like quality of the American home, questions the success of the urban subdivision, and considers the philosophical meaning of  "dwellings."
Special Events
Artist Talk with Libby Rowe: Wed., Jan. 14, 12:30 p.m. -1:15 p.m., Morlan Gallery
Opening Reception for the Artist: Wed., Jan. 14, 5-7 p.m., Morlan Gallery
Evening and Weekend Hours
Friday, Jan. 30, 6:30-7:30 p.m.
Saturday, Feb. 21, 9:30 a.m. - 4 p.m. 
---
Functional Clay: Works that Contain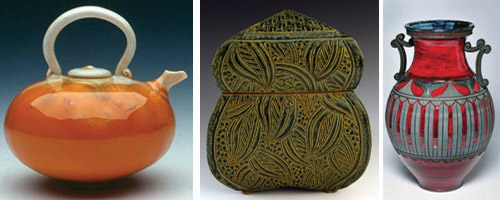 Curated by Michael Frasca
Mar. 2 – Mar. 27, 2015
(By appointment only the week of Mar. 9)
"Functional" is an exhibition of nationally recognized ceramic artists who earn their livings by creating vessels for everyday use and pleasure. The works contain the "things of life" and are an exploration of form, surface and the space within.  The artists use a broad range of techniques for making, glazing and firing.  
Functional is the first part of a two part ceramic exhibition. The second, in 2016, is "Conceptual", a show of sculptural non-functional clay artworks. Rather than contain, these works confound, or in other words, were created to challenge the viewer in ways of thinking, seeing, and perceiving. The two exhibitions—although shown a year apart—explore the intersections of craft and art and celebrate artworks made with similar materials and techniques, but with different purposes.
Special Events
Lexington Gallery Hop: Friday, Mar. 20, 5-8 p.m.; informal curator's tour at 5:30 p.m.
---
Senior Thesis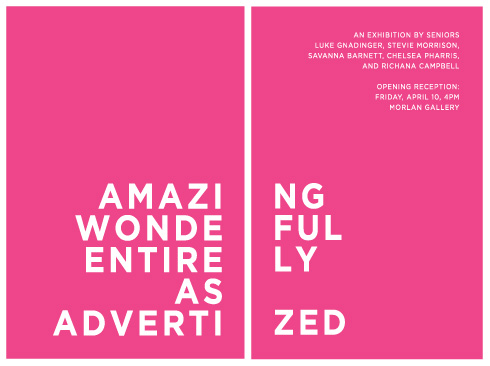 April 6- 17, 2015 
Transylvania University Bachelor of Fine Arts students showcase their best work in this culminating exhibition. 
Special Events
Opening Reception for the Artists: Mon., April 6, 5-8 p.m.
Artist Talks by the Graduating Seniors: Day and Time TBA
---
Juried Student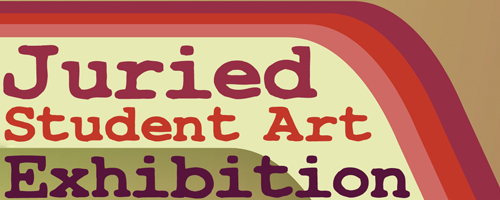 May 1- 15, 2015 
Art majors and non-art majors alike contribute work in a wide variety of media to this joyful exploration of creativity. 
Special Events
Prizes and awards given during the opening reception: Fri., May 1, 5-7 p.m.
Lexington Gallery Hop: Friday, May 15, 5-8 p.m.