Morlan Gallery
Annual Juried Student Art Exhibition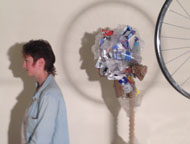 May 2- May 17, 2013 
Art majors and non-art majors alike contribute work to this joyful exploration of creativity. Jurors typically select 70 works in a variety of media and award prizes for the strongest submissions.
Special Event
Opening reception for the artists and prize presentation—Thur., May 2, 5-7 p.m., in the Morlan Gallery. Awards will be promptly presented at 6:30 p.m.
---
Senior Thesis Exhibition
3XD: Design, Displace, Daddy Issues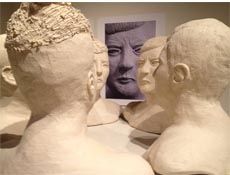 April 4 – April 19, 2013
The senior thesis exhibition is the culminating event for students who are completing their bachelors of fine arts degrees at Transylvania University.
Special Events-All Morlan Gallery events are free and open to the public.
Opening Reception for the Artists: Thur., April 4, 5-8 p.m.
Senior Presentations: Tues., April 9, 12:30-1:20 p.m.
Lexington Gallery Hop—Fri., April 19, 5-8 p.m., in the Morlan Gallery
---
Divine Hybrids: Syncretic Visions of Sexuality and the Sacred
Claudia Dominguez, Gabriela Jiménez, Diane Kahlo, Robert Morgan, and Ebony Patterson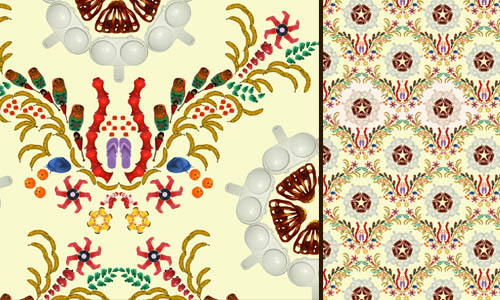 Feb. 25- Mar. 22, 2013
By appointment only the week of March 11
Divine Hybrids feature contemporary mixed-media art in which figuration emerges in an also mixed imagery, taking after syncretic religions and mythologies born from historically decisive multicultural encounters. From emblematic figures of mestizaje, to deities that embody combinations of Haitian voodoo with Hindu, Mayan, Catholic, and yet other traditions, the three-dimensional art of Mexican, North Carolina-based Claudia Dominguez, Columbian artist Gabriela Jiménez, Jamaican-born Ebony Patterson, alongside Lexington artists Diane Kahlo, and Bob Morgan, contemplates life within a sexualized realm of the sacred.
On the curator: Born in Mexico City, Fernanda Negrete recently moved to Lexington, where she works on aesthetics and contemporary literature and art. Fernanda curated a series of exhibits with artists from Colombia, Haiti, Mexico, and the United States as the 2010-11 Art Fellow at the Graduate & Professional Center ("The Big Red Barn") in Cornell University, where she received her Ph.D. in Romance Studies in January 2012. She is a Visiting Assistant Professor of French at Miami University of Ohio.
Special Events
Opening reception for the Artists—Thur., Feb. 28, 5-8 p.m., in the Morlan
CURATOR'S TALK: Fernanda Negrete—Mon., Mar. 4, 4:30 p.m., in the Morlan Gallery
ART TALK: Claudia Dominguez—Tues., Mar. 19, 12:30-1:15 p.m., in the Morlan Gallery
---
The Thirteen
Bianca Spriggs and Angel Clark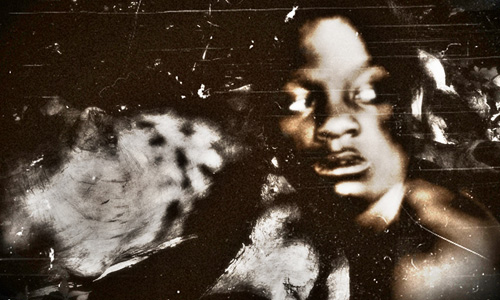 Jan. 16 – Feb. 15, 2013
OPEN Jan. 21 in honor of Martin Luther King, Jr. Day
The Thirteen revolves around the lives of thirteen black women who were violently murdered in Kentucky during the19th and 20th centuries. The exhibition features original poetry and mixed media memorials by poet and multidisciplinary artist Bianca Spriggs and photographer and filmmaker by Angel Clark.
Special Events
The Thirteen: A Performance and Reading—Wed., Jan. 23, 7:30-9 p.m., in the Carrick Theater
Lexington Gallery Hop—Fri., Feb. 15, 5-8 p.m., in the Morlan Gallery
---
Lexington Legatees: Contemporary Printmaking in the Bluegrass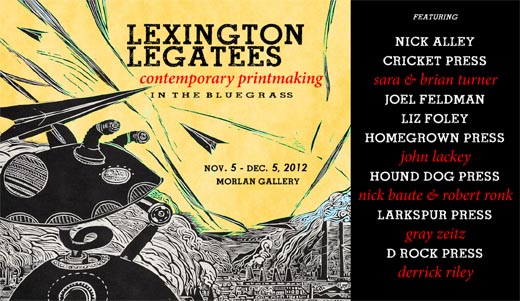 Nick Alley, Cricket Press (Sara and Brian Turner), Joel Feldman, Liz Foley, Homegrown Press (John Lackey), Hound Dog Press (Nick Baute and Robert Ronk), Larkspur Press (Gray Zeitz), and Derrick Riley
Nov. 5 – Dec. 5, 2012
Closed Nov. 21-23 for Thanksgiving
Lexington has a vibrant small press industry comprised of artists working in a variety of print media including letterpress, wood prints, and silk screens. Lexington Legatees: Contemporary Printmaking in the Bluegrass celebrates our "embarrassment of riches" in this month-long exhibition featuring three art talks and culminating in a closing holiday party and print sale on Dec. 5, 5-7 p.m.
Special Events
ART TALK: Sara & Brian Turner (Cricket Press), "The Business of Art"—Tues., Nov. 13, 12:30-1:15 p.m., in Morlan 
ART TALK: Derrick Riley (D-Rock Press) —Tues., Nov. 20, 12:30-1:15 p.m., in Morlan 
ART TALK: Jim Birchfield, The Small Press History of Lexington—Tues., Nov. 27, 12:30-1:15 p.m., in Morlan 
Lexington Gallery Hop—Fri., Nov. 16, 5-8 p.m. in Morlan 
Holiday Party and Print Sale—Wed., Dec. 5, 5-7 p.m. in Morlan
---
Ink In the Cage: The Stories Behind MMA Fighter Tattoos
Barbara LoMonaco and Angela Baldridge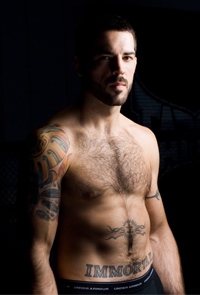 Sept. 17 – October 26, 2012
Closed Oct. 15, 16 for fall break
While tattoos are common among mixed martial arts (MMA) fighters and are highly visible in the cage, the stories behind them are less public. Ink in the Cage is a photographic exploration of those tattoos which reveal unique aspects of fighter identities -- their convictions, passions, personal histories, and overcome obstacles. Through interview excerpts and larger-than-life images, observers are granted entré into the private lives of these athletes whose tattoos commemorate major turning points, serve as reminders of loved ones, echo religious sentiments, and are frequently symbols of the philosophy fighters live by, both inside and outside the cage.
Special Events
Lexington Gallery Hop: Fri., Sept. 21, 5-8 p.m.
ART TALK: Tuesday, Sept. 25, 12:30-1:15 p.m., Morlan Gallery. Barbara LoMonaco and Angela Baldridge discuss their two-year project interviewing and photographing mixed martial arts fighters, also known as "cage fighters."
---